Krungthai NEXT Application Received the Tab Digital Inclusive Award 2019 from Thailand Association of the Blind
Updated Date10 Jun 2019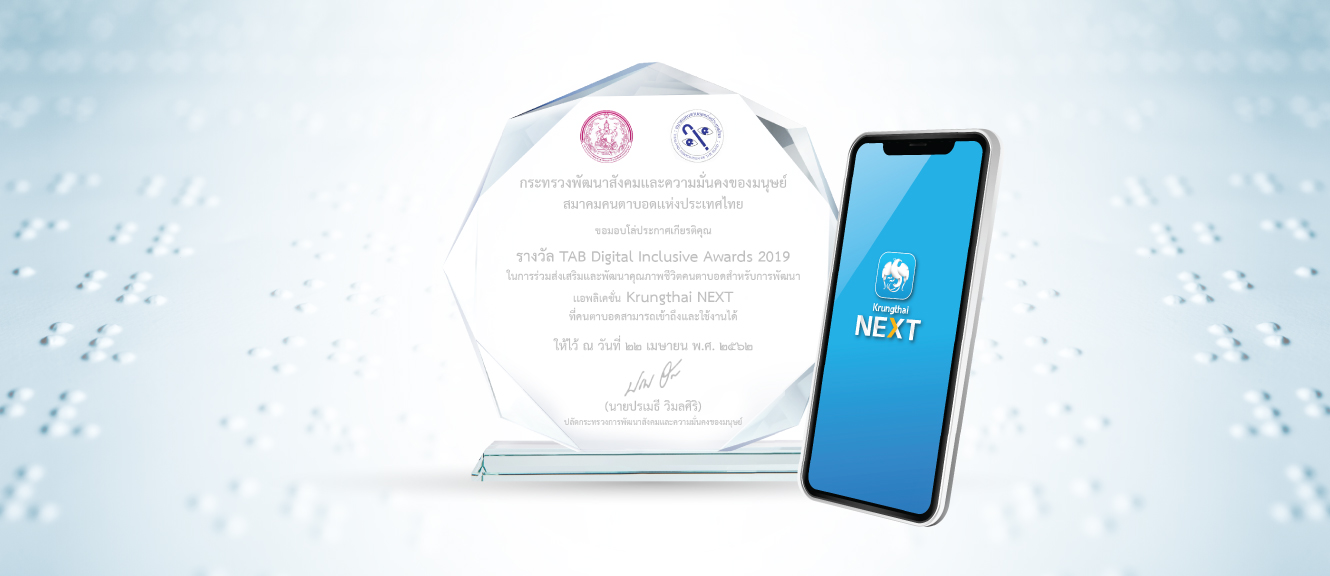 Krungthai Bank received the Tab Digital Inclusive Award 2019 from Thailand Association of the Blind. Krungthai NEXT application was voted by the visually impaired as a mobile banking that can access financial transactions via mobile conveniently, safely and accurately as well as encouraging and improving the quality of life of the visually impaired.
Mr. Payong Srivanich, the President of Krungthai Bank, revealed that the Bank has a key mission to promote Thailand towards Thailand 4.0 to drive the nation to a digital economy society. The Bank has invented and developed new technologies, raised the level of end-to-end services and stepped into invisible banking or aerial transaction that accompanies customers anytime and anywhere, especially Krungthai NEXT application in which the Bank has developed to provide core features that are easy to use, convenient, fast, and have the most comprehensive financial transaction network in the country.
"Besides new features such as ATM withdrawals without cards, opening an online account with no minimum, online self-checking credit bureau, including Krungthai Connext that reports every financial movement via LINE and smart AI (intelligent system) for more convenience of Thai people in all sectors, Krungthai NEXT application's user interface was also designed with consideration to be friendly to all users. As a result, the visually impaired can conveniently, accurately and completely access financial transactions via their mobile phone in accordance with the UI Accessibility Guideline standards of iOS and Android operating systems. Visually impaired people across the country voted Krungthai NEXT application as the most convenient mobile banking. Thus, Krungthai NEXT application received the Tab Digital Inclusive Award 2019 from Thailand Association of the Blind."
Mr. Payong Srivanich further said that the Bank was proud to contribute to the improvement of the quality of life for the visually impaired so that they can perform financial transactions by themselves with convenience and security. The Bank also has plans to develop Krungthai NEXT application and other financial services in order to provide comprehensive and equal service for all sectors of society.
Mr. Ekalak Promchart, the visually impaired, revealed that Krungthai NEXT application can support the most complete use of accessibility functions such as VoiceOver of iOS system or TalkBack of Android system. The visually impaired are able to perform financial transactions just like ordinary people. There are comprehensive functions such as a service to pay electricity bill and water bill and pre-purchasing - booking lottery tickets service which reduce the need to go to a branch or an ATM. Moreover, it is also secure with Krungthai Connext service that reports every financial movement via LINE.
The TAB Digital Inclusive Award 2019's criteria were based on a nationwide approach for visually impaired people to vote for their mobile banking applications they have used. There were three points to consider, namely an application developed for all Thai people, an application for public and not developed specifically for the blind to use, and an application that the visually impaired people can access and use by over 80%.