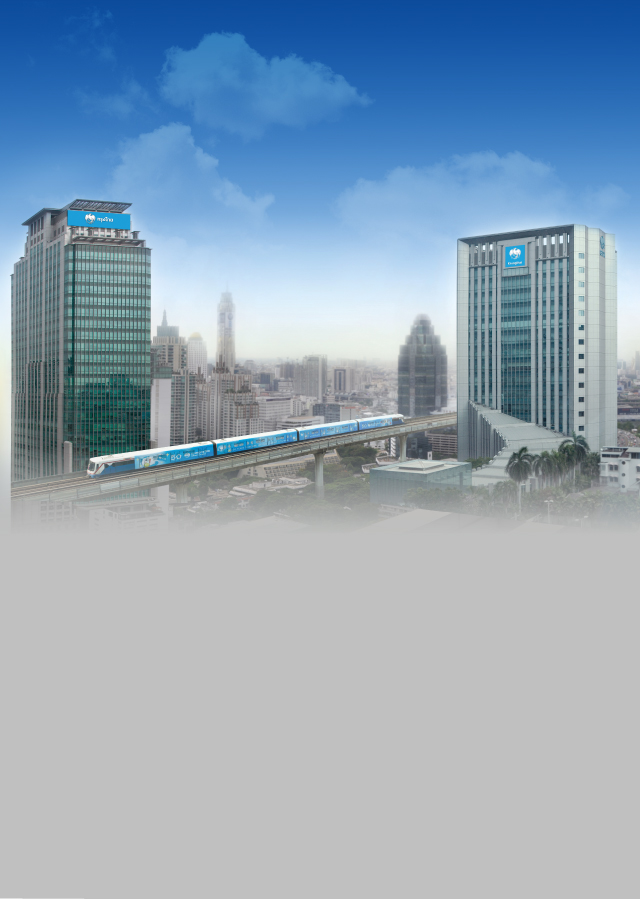 Message from the Chairman and the President
Krungthai Bank is committed to offer people everywhere convenient access to exceptional financial services, sustainably enhancing their quality of life in every dimension. To meet the current trends that are changing the face of events worldwide, accompanied by a challenging economic climate, fierce competition, rapid technology advancement, and shifting consumer behavior, Krungthai Bank is compelled to adapt and make phenomenon changes in the way of conducting its businesses. Bolstered by a robust digital platform, Krungthai now offers the most suitable cutting-edge financial products and services and only bank trusted as the government's main cash management provider, bringing it closer to the Business and people through the Pao Tang mobile application, Thailand's largest digital platform serving over 30 million users
In 2020, the "2 Banking Model" was introduced as part of our efforts to enhance business operation efficiency. Based on this concept, the traditional banking business model, or metaphorically an aircraft carrier, is carried out in tandem with the modern banking business model, or figuratively a speed boat, to ensure the most efficient resource allocation and successful business performance.
Amid the COVID-19 pandemic, which has caused a serious impact on the economy and people's livelihoods, Krungthai Bank plays in a front line and significant role in the implementation of various government initiatives including relief packages and economic stimulus measures, ensuring government aid is distributed fairly and transparently to the public. Customers affected by the virus outbreak were also offered supportive measures. Meanwhile, we remain committed to environmental, social, and corporate governance in our endeavor for sustainable growth and social improvement.
Environmental
In 2020, an eco-friendly business operation continued to be one of our top priorities. In light of this, various innovative initiatives were carried out. The "Krungthai Relife" campaign was able to reduce waste by 3,690 kg and carbon emission by 9,335.7 KG.CO2e through the installation of disposal machines that could turn food waste into soil. Furthermore, technology was used to digitize our banking processes and services, such as the E-Slip & E-Signature system, available at 235 branches, and the Dip-Chip technology for identity verification. More energy-efficient LED lights and label no. 5 air-conditioning units have also been installed at 121 branches. Equally important, we were able to create indirect impacts on the environment through green loan grants worth over 18 billion Baht given to environmentally-friendly businesses such as renewable energy (solar, biomass, and biogas) and upcycling and recycling businesses.
Social
In the past year, Krungthai Bank played a crucial part in providing people from all walks of life access to a range of financial services including savings, relief packages, and social welfare, as well as in supporting the government's rollout of COVID-19 economic stimulus and relief measures. With a new phenomenon in government policy administration, the handy Pao Tang mobile application ensured that government support was delivered straight to the people with transparency and accountability. For example, "Rao Mai Ting Kan" (We Won't Leave Anyone Behind), a project aimed at distributing government financial aid; "Rao Tiew Duay Kan" (We Travel Together), a tourism and economic stimulus campaign; and "Kon La Krueng" (50-50), a domestic consumption stimulus campaign. Additionally, other practical and helpful services were made available on the Pao Tang application as well. For instance, the Krungthai Digital Health Platform, developed in collaboration with the National Health Security Office (NHSO), facilitates Gold Card subscribers' access to healthcare services via the Health Wallet and the "Sasom Bond Mung Kung" e-wallet, developed in conjunction with the Public Debt Management Office (PDMO), marks the first time in Thailand's history that savings bonds were sold on a digital platform. In addition, for the first time in history, a blockchain technology connected with government has made VAT refund for tourism faster and easier than ever with the VRT mobile application.
Through our "Go – Local, Grow – Local" campaign, whose ambition goal is the betterment of the livelihoods of people across Thailand, various communities were provided support in developing products, improving facilities, and enhancing relevant skills. Some noteworthy projects include the development of acanthus soap packaging and the renovation of oyster farms and crab banks in Baan Kok Krai Community in Phang Nga Province; the improvement of local silk craftsmanship in Baan Sanuan Nok Community in Buriram Province; the improvement of packaging for herbal medicine and the development of tourism sites in Tha Ma-O community in Lampang Province; the study of charcoal and the development of tourism attractions in Baan Mae Kampong Community in Chiang Mai Province; the development of tourism sites and a cotton product development plan for Baan Duea Community in Nong Khai Province; and the development of product labels and the promotion of the local arts and cultures of Baan Laem Community in Suphanburi Province. All of these communities proudly meet the Department of Tourism's 2020 CBT Thailand standards. Meanwhile, our ongoing tourism site development projects include ones in Baan Suan Durian Community in Songkhla Province, Takian Tia Community in Chonburi Province, and Nang Lae Community in Chiang Rai Province and there are plans to extend the same type of project to other communities throughout the country in 2021. In addition, Krungthai, in cooperation with the United Nations Development Programme (UNDP) Thailand and Raks Thai Foundation, has hosted a crowdfunding campaign, "Koh Tao Better Together", under the Biodiversity Finance Initiative (BIOFIN) via its e-donation platform to create jobs and provide support for Koh Tao Island locals affected by the COVID-19 outbreak. The fund raised was used to hire tourist boat drivers for beach cleaning, helping to raise awareness in environmental conservation, promoting understanding of local habitats, and creating harmonious and sustainable living with nature.
With regard to human resources management, in 2020, the focus was on strengthening the six capacities – Workforce Rationalization, which involves a thorough review of our manpower plan to ensure its alignment with our strategic directions; Employee Development, where our employees are upskilled and reskilled to ensure that they are well-equipped with necessary knowledge and skills to efficiently implement the company's strategies; Talent Management, which places great importance on attracting, managing, and retaining talents, leading to a launch of special recruitment programs to hire top talents in the market; Performance Driven Organization, which includes creating a result-oriented culture to enhance the company's performance and ensuring fair and equitable employee compensation; Krungthai Kunnatham, which promotes a zero-tolerance culture to fraud and corruption; and ONE Krungthai, which focuses on promoting strategic alignment between the company and its wholly-owned subsidiaries.
Governance
As a company that is strongly committed to becoming a model ethical organization, we have been carrying out the Sustainable Krungthai Initiative or "Krungthai Kunnatham," emphasizing the three strategic principles: fostering employees' moral consciousness, preventing wrongdoings, and changing for the better, with an aim to improve corporate governance and efficiency. In addition to this, our corporate core values have been established, specifying five elements of corporate ethical identity that underpin our business conduct - "Integrity", "Breakthrough", "Efficiency", "Social" and "Teamwork." A number of frameworks were also introduced to encourage employee self-initiation. For example, through the "One Unit, One Sustainability Plan," employees and members of the management team had a chance to brainstorm and select distinctive plans to be scaled up to corporate level through a corporate hackathon. A professional Design Thinking Workshop has also been conducted to create a mindset shift, leading to improved productivity and efficiency in credit processing. The establishment of the Financial Crime Sector further attests to our resolve at preventing fraud and financial crime.
Guided by the corporate vision of "Growing Together for Sustainability" and commitment to good governance and the creation of shared value, Krungthai has earned several recognitions including Bank of the Year 2020 in Thailand from The Banker, the Asian Banker Leadership Achievement Award for The Best Managed Bank during COVID-19 in Thailand and the Best CEO Response to COVID-19 in Thailand from The Asian Banker; The 2020 SOE Awards for Outstanding Corporate Management and for Outstanding Covid-19 Crisis Management from the State Enterprise Policy Office. The company not only achieved the CG score of "Excellence" from the 2020 Corporate Governance Report of Thai Listed Companies (CGR) organized by the Thai Institute of Directors Association (IOD) but was also assigned long-term national credit ratings of AA+ by Fitch Ratings and included in 2020 Thailand Sustainability Investment (THSI) list announced by the Stock Exchange of Thailand. These successful achievements illustrate our unwavering commitment to being a pillar of the Thai economy, playing a key role in developing a digital economy and building the country's strong and sustainable economy.