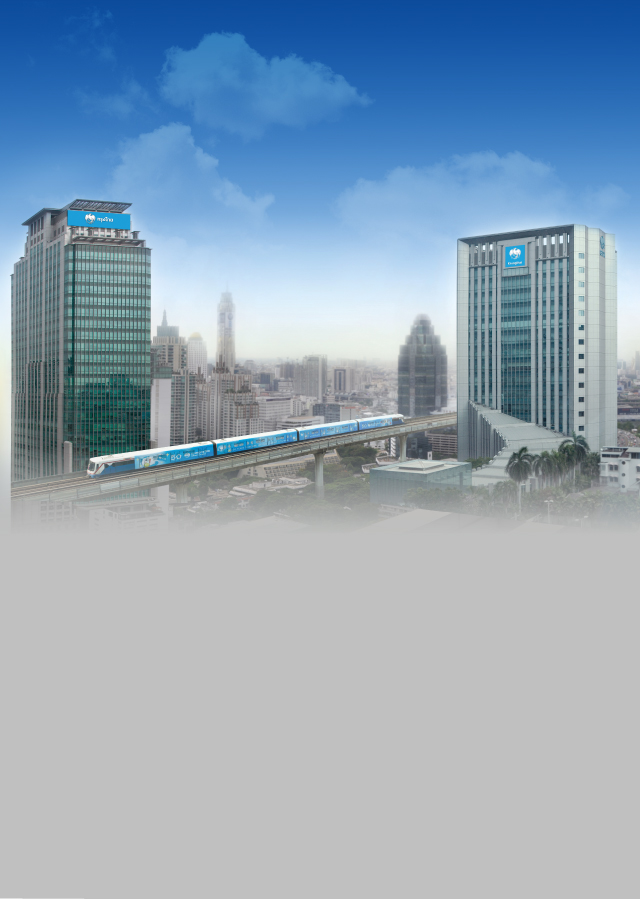 Message from the Chairman and the President
Thailand, like other countries around the world, has been facing ongoing and increasingly difficult challenges as a result of the COVID-19 pandemic. Its widespread impact has had negative effects on the economy, society, and people's way of life, both directly and indirectly. This, combined with geopolitical conflicts, has resulted in higher costs and inflation. To make matters worse, climate change and increasingly destructive natural disasters are causing environmental crises. However, amid the global economic slowdown, we remain committed to operating our business in a sustainable manner. We are ready to assist our customers, promote steady growth, and improve the quality of life for Thai people.
In 2022, we implemented a responsible lending policy to ensure that environmental, social, and governance risks are taken into consideration in our credit approval process and risk management strategy. We support lending to businesses and industries on the inclusion list that have potential and align with our environmental, social, and governance goals. Conversely, we do not lend to businesses or individuals on the exclusion list that we consider undesirable. Moreover, we ensure that risks are properly identified, assessed, controlled, monitored, and managed in every process to avoid potential damage.
Environmental Dimension
We are committed to addressing climate change in a way that aligns with Thailand's sustainable economic development goals, focusing on the development of Bio-Circular-Green (BCG) economy. To this end, we have partnered with government agencies and the private sector to develop sustainable finance solutions. Moreover, to reduce our greenhouse gas emissions, we have implemented several measures, such as optimizing our resource use by replacing equipment, including light bulbs and air conditioners, with environmentally friendly alternatives and adding electric cars to our fleet. We also run campaigns to encourage efficient resource use and waste reduction within our organization. For example, in Krungthai RELIFE campaign, which is part of Krungthai Loves Environment Initiative, we installed reverse vending machines and food waste recycling machines to turn food waste into soil. Moreover, we have started implementing a total waste management solution, which includes installing waste sorting bins on each floor of the Bank's head office, branches, and Southern Region Network Sector's office, as well as collecting data on our waste generation, which forms part of the data necessary for achieving our zero-emission goal.
Social Dimension
Krungthai Bank, as a prominent commercial bank in Thailand, has been serving the country and its people for more than 50 years with the purpose of improving their quality of life. To achieve tangible results in sustainable development, we have systematically adopted digital technology in our work processes. The Paotang mobile application, which is also known as the Thailand open digital platform and now has over 40 million users, has played a crucial role in supporting the government's economic stimulus programs, including "Khon La Khrueng" (Let's Go Halves) scheme phases 4 and 5, in which more than 24 million Thais participated, generating over 90-billion-Baht domestic spending. The platform has also aided the growth of Thailand's digital economy, for example, by distributing digital government and corporate bonds worth more than 50 billion Baht in the past year. The Gold Wallet in Paotang acts as an online trading platform for 99.99% gold, and it now has over 150 thousand user accounts. The application also serves as a health platform through its Health Wallet, created in collaboration with the National Health Security Office (NHSO), which enables people to check their health benefit rights and use them for outpatient medical treatment as well as display appointments and send reminders. Paotang Pay, co-developed with Infinitas by Krungthai, is another wallet within the app that allows users to make PromptPay QR code payments, intra- and interbank money transfers, bill payments, and top-ups without additional fees, while also offering discount coupons from well-known brands and retailers.
As part of the "Krungthai Go Local, Grow Local" project, we developed two model communities in 2022 with a focus on holistic development through sustainable value creation. This initiative has resulted in significant changes to the structure, policy, and mechanisms for working with communities. Our goal is to empower Thai society to keep pace with global trends, have the opportunity to develop themselves and unlock their full potential, and add value to local products and services without compromising environmental sustainability. To develop the two model communities, we collaborated with Chiang Mai University's Science and Technology Park, which specializes in incubating community entrepreneurs, and four social enterprises that specialize in developing tourist attractions, community products, financial management, and community environmental management. Together, we brought knowledge, technologies, and innovations to the communities. Our aim is to extend this project to other communities in the future.
As for our operations in relation to our people, we have changed our people management strategy to better align with our goal of becoming a future bank. We have shifted the focus of our human resources development strategy to building future skills so that our workforce remains relevant in the future. Furthermore, we have accelerated the transformation of our culture, leadership and potential, as well as our people's skills. A learning management system is also integrated into the ONE Krungthai application to facilitate anytime, anywhere learning among our employees.
Governance Dimension
To build confidence and trust among our stakeholders, we have announced a zero-tolerance policy, and we strive to operate transparently and in compliance with the rules and regulations of our regulators. Additionally, we continue to foster our core values of integrity, breakthrough, efficiency, social, and teamwork through the "Foster, Prevent, Change" strategic principle and the "explosion from within" method. Our executives and employees are encouraged to participate in various initiatives, including the "Krungthai Khunnatham" (Sustainable Krungthai) Initiative and Krungthai Hackathon, which focus on developing innovations by generating new ideas or building upon existing plans.
In 2022, we reviewed our human resources strategies and policies to ensure that they adhere to the Principles of Corporate Governance established by the Organization for Economic Co-operation and Development (OECD), laws related to the National Anti-Corruption Strategy, and international standards of good corporate governance. The reviewed strategies and policies will be used as a guideline for our operations.
Our relentless effort in the past year to pursue our vision, "Growing Together for SUSTAINABILITY", highlights our mission to empower a better life for all Thais. We are resolved to grow together with all sectors while maintaining good corporate governance, creating shared value, and contributing to addressing the United Nations Sustainable Development Goals (SDGs). As a result, we have received numerous global awards and recognition, including the Most Sustainable Bank Thailand 2022 Award from World Economics Magazine and Best Sustainable & Business Solutions Bank Award from The European Magazine. In addition to international awards, we were also recognized locally. For example, we won the Royal Thailand Corporate Excellence Awards 2022 in the categories of Product/ Service Excellence Award, Leadership Excellence Award, and Marketing Excellence Award from the Thailand Management Association, as well as the Thailand Sustainability Investment 2022 from the Stock Exchange of Thailand. All these awards reflect and reinforce our commitment to serve as a pillar of the Thai economy, ready and willing to stand by your side and improve the quality of life of Thai people in today's world, which is full of volatility, uncertainty, complexity, and ambiguity, or the VUCA world.

Mr. Krisada Chinavicharana
Chairman of the Board of Directors

Mr. Payong Srivanich
President