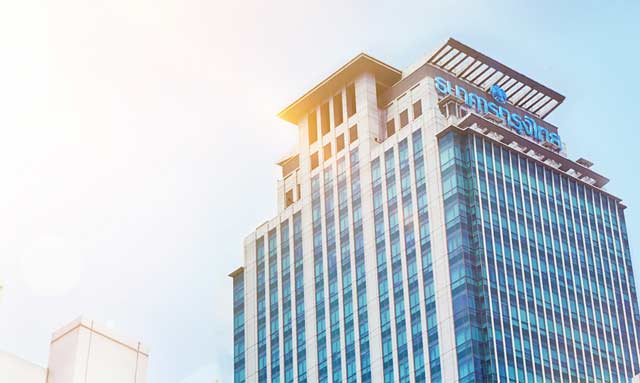 Message from The Chairman
& The President
Message from The Chairman
& The President
Although the Thai economy continued to expand in 2018, the economic recovery remained concentrated in some industries and not fully trickled down to the grassroots segments. In addition, SMEs were faced with fierce competition and threatened by the rapid changes in technology, leading to weaker debt service ability of smaller firms and thus a rise in non-performing loans from the SMEs sector as seen in Krungthai Bank's portfolio as well as in the entire banking industry's portfolio.

Meanwhile, large corporates were in the position to select from a variety of funding sources. Under such environment, credit growth was a challenge to Krungthai Bank. Furthermore, the Bank's fee income was significantly trimmed down by tough market competition and technological disruption that had changed the business environment, adding pressure to the Bank's operating results. Nonetheless, the Bank and its subsidiaries were able to expand credits by 4.4% from end-2017, and maintained focus on prudent risk management, as reflected by loan classification and provisioning discipline. As a result, the Bank's coverage ratio continuously improved to 125.7% by end-2018. Effective cost management also contributed to profits, with the Bank and its subsidiaries registering a net profit of Baht 28,491 million in 2018, up by 27.0% from 2017.
The Bank and its subsidiaries
were able to expand credits by 4.4% from end-2017
Coverage Ratio
continuously improved to 125.7%
The Bank and its subsidiaries
registered a net profit of Baht 28,491 million up by 27.0%
"In 2018 The Bank launched the Krungthai NEXT application,
paving way to Invisible Banking"

With more business challenges and the rapidly changing consumer behavior, the Bank had to accelerate the implementation of "3 Strategic Goals" by executing them simultaneously rather in phases: Goal 1 - to strengthen the Bank's foundation so as to defend the Bank's core business, Goal 2 - to enhance the ability to generate revenue and profit, and Goal 3 - to move forward to acquire market share in customer and service segments deemed as strategic targets under the Future Banking Strategy, based on our strengths and opportunities. One area that was important throughout 2018 was the upgrade of the IT systems and innovation capability, with a dedicated IT budget of more than Baht 10,000 million in 2018. The Bank invested on many fronts, including the upgrade of service platforms especially the Krungthai NEXT that aims to serve and satisfy all customer needs with just one application. In addition, machine learning and artificial intelligence (AI) were introduced to enhance service coverage and pave way to Invisible Banking or the ability to provide personalized wireless transaction connection to our customers everywhere and at every moment in this disruptive technology age. At the same time, Krungthai Bank upheld its role in supporting the National e-Payment Project with the intention to gear the country toward becoming an efficient cashless society. Under this endeavor, the Bank provided e-payment facility, installed EDC machines and QR codes as well as implemented the Healthcare Welfare Card Project, extended the State Welfare Smartcard Scheme and initiated the Mangmoom Debit Card.

For 2019, the Bank is determined to carry on services and innovations to satisfy the customers' need, especially in the five targeted ecosystems - Government, Payment, Health and Wellness, Education, and Mass Transit - using advanced technology, such as data analytics, biometric verification and cybersecurity, to enhance service quality particularly the capability of our Krungthai NEXT application. At the same time, the branch network and other service channels will be comprehensively reviewed and refurbished to deliver seamless customer experience across all channels under the omni-channel concept. Lending remains a focus as the Bank is set to recover loan growth in many segments, with the government infrastructure investment expected to support corporate loan demand and the SMEs' need to adopt the single account policy and enhance enterprise management technology expected to drive loan growth to smaller firms. In the retail segment, personalized digital lending is under implementation with the aim to better customize our product offering. Along with these initiatives, the Bank will maintain prudent risk management and effective NPL control as well as enhance the ability to earn profit, while the IT systems and internal processes will be increasingly integrated to accomplish the process automation architecture.
Besides the aforementioned strategic plans and missions, the Bank will continue to uphold Krungthai Kunnatham, or Krungthai Bank's Moral Principles, by means of 3 strategies - to foster, to prevent and to change - aiming to establish the "Zero Tolerance" culture within the organization. In doing so, all forms of corruption will not be tolerated by all of our executives and employees. To foster this, participation and collaboration from all levels of the Bank are encouraged, with ideas and initiatives from every corner of the Bank already submitted and explored but need to be transformed into concrete practical processes and fully rolled out bank-wide. In addition, after having intensively and comprehensively overhauled our market conduct practice in 2018, Krungthai Bank will carry on the measures to ensure fair customer treatment and continued determination of the staff to comply with regulations. We have already implemented many initiatives, including the Train the Trainer Program to create role model agents who not only can present products professionally but are also skillful in training fellow employees to meet the same service standard, the Quality Assurance Market Conduct Project, and the improvement of mystery shopping both in terms of intensity and frequency. The Bank truly believes that this Moral Bank prototype is necessary for public trust and a secured position in the hearts of our customers, shareholders, and employees. It is the crucial ingredient for sustainable business in the long run.
On behalf of the Board of Directors, executive officers, employees and affiliates of Krungthai Bank, we would like to express our deep appreciation to all shareholders, business alliances as well as customers in placing trust in and kind support behind Krungthai Bank throughout the years. We promise that we will professionally operate business to augment wealth and maintain financial stability, taking into account the benefits to all stakeholders, adhering to corporate governance together with supporting the government operations with the intention for us all to "grow together".
Mr. Ekniti Nitithanprapas
Chairman of the Board of Directors
Mr. Payong Srivanich
President