Asia's First Offering of a Digital Bond from a Real Estate Company! "Sansiri Digital Bond" through "Pao Tang" app
Updated Date 5 Jan 2022
Asia's First Offering of a Digital Bond from a Real Estate Company!
Sansiri & Krungthai introduce "Sansiri Digital Bond" through "Pao Tang" app
Starting at only THB 1,000, anyone can buy and receive a yield of 3.10% per year allowing Thais to have easier access to investment
The first real estate company in Asia to offer digital bond. Sansiri joins hands with Krungthai Bank to launch "Sansiri Digital Bond" through a corporate bond wallet in "Pao Tang" application. Minimum subscription starts at only 1,000 baht so that all Thais have equal and inclusive access to investments.
Offering consistent returns for investors with fixedinterest rate of 3.10% per annum. The interest will be paid every 3 months throughout the bond term. Short term investment of only 2 years and 6 months. BBB+ rating by TRIS Rating.
Real-time 24-hour trading via Corporate Bond Wallet on the "Pao Tang" application which shows the bond's holding information, bid and offer price all in one place. More liquidity! the investors can also buy and sell the digital bond instantly in secondary market after the bonds enter the corporate bond wallet on Pao Tang app.
Another step forward for Sansiri in terms of equality and accessibility for all Thais. Apply for Pao Tang's digital bond wallet today. Subscription is start from January 18, starting at 8:30 AM.
Mr. Srettha Thavisin, President and Chief Executive Officer of Sansiri Public Company Limited, said Sansiri has always been committed in seeing the importance of and supporting "equality in all dimensions". Our property development is executed under the will and determination to be a brand that is tangible and "accessible to everyone". This does not only define by how we develop products to be accessible in different price points. Sansiri also recognizes the importance of equal and accessible investments. This leads to a strong determination for us to introduce financial innovations in new ways to meet the needs of our customers and make it easier for Thais to access investments while also supporting everyone to be able to have homes easier too. That is why, in 2021, Sansiri decided to take a step to lead in investment transformation by offering corporate bonds that everyone has equal access and opportunity to buy for the first time in Thailand. "Sansiri i-EASY bond", which everyone can buy starting from 10,000 baht, has received excellent response from subscribers. The bonds were sold out in such a short time in both rounds that we offered during the past year."
In 2022, Sansiri continues to expand its vision in equality in all dimensions and present financial innovations in new ways through an investment that is easy to access for all Thais. The company joins hands with Krungthai Bank Public Company Limited to issue "Sansiri Digital Bond", the first offering of a digital bond from a real estate company in Asia. With a vision to be "a bond that all Thais can access", this new digital bond is another investment option that generates consistent returns. With an initial investment of only 1,000 baht, everyone can trade the bond 24 hours a day through a corporate bond wallet on the Pao Tang application. The digital bond is a named, unsubordinated, unsecured bond, and has a bondholders' representative. The interest rate is fixed at 3.10% per annum. Investment period is at only 2 years and 6 months, with interest paid quarterly.. In addition, Sansiri Digital Bond still have liquidity as it can be bought and sold immediately in the secondary market after it enters the corporate bond wallet on Pao Tang app. The subscription period is opened at the same time at 8:30 AM on January 18, 2022, via corporate bond wallet only on Pao Tang application to all small investors to have equal access.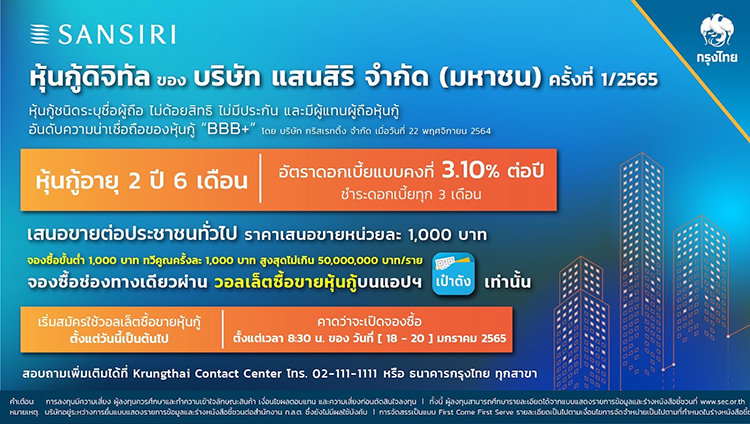 "The partnership with Krungthai Bank to launch Sansiri Digital Bond on Pao Tang app is another step forward for Sansiri's commitment, which emphasizes on equality and accessibility in all dimensions for all Thais. It is an extension of the success of bond investment in a new approach, allowing all groups of people to access investments easily and thoroughly. We combine lowest initial investment limit for corporate bonds ever in real estate business with the strength of Pao Tang application by Krungthai Bank. Its development of a variety of functionalities has made it a go-to app that more than 33 million Thais are currently using," said Srettha.
Sansiri has achieved success through the development of financial innovations both to raise funds and operate a new business model that responds to trends in the digital finance world and responds to the ever-changing behavior of investors and customers throughout the year 2021. In addition, the company continues to have strong financial status with liquidity of THB 15,000 million. This was a result from a good capital management strategy under the difficult COVID-19 situation. The company is also preparing to expand the development of financial tools, both new fundraising and financial innovations that will attract investors and strengthen Sansiri brand, which will be ready to be launched in early 2022. The company expects to be able to determine the offering value of Sansiri Digital Bond in mid-January. This new offering by Sansiri, meanwhile, is considered another good option for Thais to save and receive better returns than regular bank deposit as it offers stable return with a bond rating of BBB+ by TRIS Rating.
Mr. Payong Srivanich, President and CEO of Krungthai Bank Public Company Limited, said "Krungthai Bank is committed to using new technologies and innovations to develop financial products and services to meet the needs of customers and all groups of people on digital channels that are easy to access, convenient to use and secure. We also want to encourage Thais to plan their savings and investments for a financially healthy future by developing and offering investment products on "Pao Tang" app, which is Thailand's open digital platform developed by Infinitas by Krungthai. The platform allows users of all groups to use the service, including those without a Krungthai Bank deposit account. We are also ready to cooperate with various partners both from public and private sectors to enhance the potential of the platform so as to cover a wider range of activities of customers and Thai people in the areas such as financial services, health, lifestyle, as well as savings and investment.
Recently, Krungthai Bank has joined hands with Sansiri to offer Sansiri Digital Bond on "Pao Tang" application. Investors can invest in the digital bond issued by Sansiri, a leading real estate company in the country, with inclusivity and equality. Within the blockchain-based platform, they can quickly and conveniently buy and sell the bond with 24-hour real-time trading; they can receive bonds and money immediately. The app shows the bond's holding information and trading price all in one place, making trading transparent and verifiable.
"This partnership with Sansiri is an important step in the revolution of private bond investment in real estate business. And it is an important enhancement of Pao Tang's capability to meet people's savings and investment needs. This is an important foundation for building financial stability for customers and the public for a sustainable future. This meets the Sustainable Development Goals (SDG) in many aspects, including deploying innovation to increase efficiency, develop and upgrade the Thai capital market and continually provide services that support economic growth. Digital bond offering also helps reduce environmental problems because it is a scripless product. That means no paperwork is required, no need to be at Krungthai branches in person because you can trade instantly in the app. Offering the bond on Pao Tang app, which currently has more than 33 million users and with which most Thais are familiar, would help people of all groups to be able to access investment, reducing the problem of inequality. The platform is transparent, secure and can be inspected every step of the way. It is also in line with sharing economy concept, which will enhance the liquidity of the country's debt instruments," added Mr. Payong.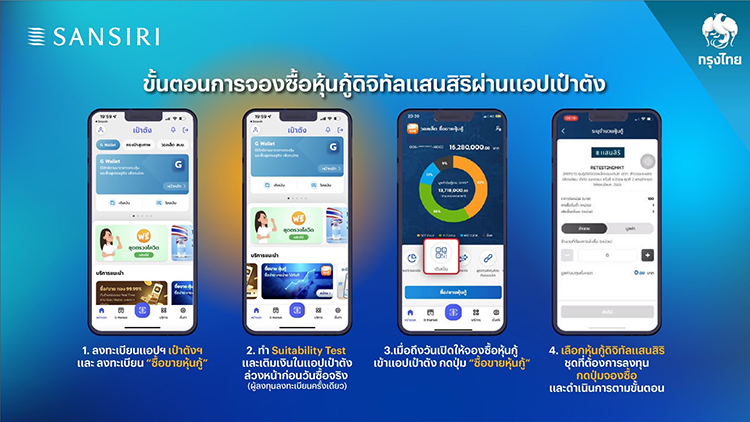 For those interested in subscribing to Sansiri Digital Bond, you can register for a corporate bond wallet in "Pao Tang" app from today onwards. The subscription will be opened from 8:30 a.m. on January 18, 2022, until the total number of digital bonds is fully subscribed. Minimum subscription starts at only 1,000 baht, with subsequent multiples of 1,000 baht. Each person can buy up to 50 million baht/person. You can learn more about how to register at
https://krungthai.com/th/krungthai-update/promotion-detail/916
, and you can register, fill in your personal details and complete a suitability test in the digital bond wallet in Pao Tang app prior to the subscription date. For more information on the digital bond, please refer to the draft prospectus at
https://market.sec.or.th/public/ipos/IPOSDE01.aspx?TransID=377535
. For enquiries, please contact Sansiri at 1685 or contact Krungthai Bank Public Company Limited at Krungthai Contact Center 02-111-1111 or at any Krungthai Bank branch.