The Launch of dStatement Service
Updated Date 24 Jan 2022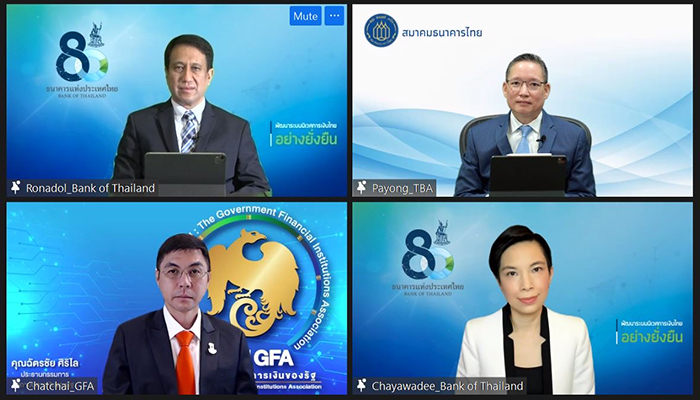 Bank of Thailand (BOT), Thai Bankers' Association (TBA), and Government Financial Institutions Association (GFA) jointly announced the launch of dStatement (digital bank statement) service, starting from today onwards.
dStatement service is a financial information exchange service for sending and receiving bank statement data directly between banks in a machine-readable digital format. It allows financial service customers, who need to submit their bank statement as supporting documents, to request and send their bank statement data directly from one bank to another bank using their own mobile banking apps or via other servicing channels. This service is significantly more efficient than the traditional way that customers need to visit a bank branch to request for a paper-based bank statement. At its launch on 24th January 2022, this service will be served by 6 banks and 5 more banks will additionally offer the service later by the first half of this year
dStatement service is the first service delivered to the market as an achievement of the first pilot project under the cooperation agreement among banks signed by the member banks of TBA, GFA, and Association of International Bank (AIB) on 8th July 2021 to develop and adopt common data standards to promote innovation and digital financial services. Launching of data connectivity service, namely dStatement, will enable consumers to send their personal data stored at a financial institution to use at another 3rd party financial service provider for their own benefits. This will allow customers with access to a wider range of financial service providers that appropriately suit their specific needs.
Mr. Ronadol Numnonda, Deputy Governor, Financial Institutions Stability, the Bank of Thailand (BOT), revealed that recent technological developments have been a crucial factor in accelerating Thailand's financial ecosystem to the digital financial era. It is essential to create an ecosystem that is open to both financial service customers and financial service providers to leverage available technologies and data so that new innovations are encouraged and introduced. Accordingly, today, with dStatement, is the first milestone of an open data ecosystem that would establish a solid foundation for Thai financial sector to transform the service deliveries from traditional channels into purely digital ones, and to be prepared to stay resilient in the fast-changing world. Such ecosystem will enable financial service customers, by utilizing and having control over their own data, to gain better access to wider options of available financial services, and also enable financial institutions to foster their competitiveness with data and technology.
Mr. Payong Srivanich, Chairman of the TBA, unveiled that the TBA and its members have continuously supported the dStatement project from the start and trust that the service will accommodate wider range of customers who need loan services from bank in a more convenient way. The dStatement project is a good example of the creation of data ecosystem for the financial industry which will foster innovations on digital financial services which will, in turn, provide better service according to individual's profile. In addition, the result of collaboration in this project will enhance the provision of services of each member bank according to the TBA's 3-Year Strategic Plan to enable the country's competitiveness by technology and innovation. Through the building of data ecosystem, not only can cost savings be achieved from streamlining inefficient logistic activities, but also the transformation of the future banking to drive sustainable growth of the country is accelerated.
Mr. Chatchai Sirilai, Chairman of the GFA, said that government financial institutions are determined to make improvements in serving better financial services to people as they have wide customer coverage on all segments of Thai people. The development to connect the data among banks will encourage people to apply to services that cost lower and more convenient to them. The lower funding costs can help improving the quality of people's lives. The GFA and its members have provided strong support and close cooperation in this project.
Following the launch of dStatement service, the BOT, TBA, and GFA anticipate that the financial service customers will receive better experiences and benefits from better served digital financial services by utilizing their data. In the next few years, there will be more expansion in scope of services by multilateral parties to provide customers with access to a variety of financial services through a digital channel that are quicker and easier; simultaneously, more service providers to develop financial services that better suit the needs of each individual customer.
More details about the dStatement service can be found on the website and other medias of each participating bank.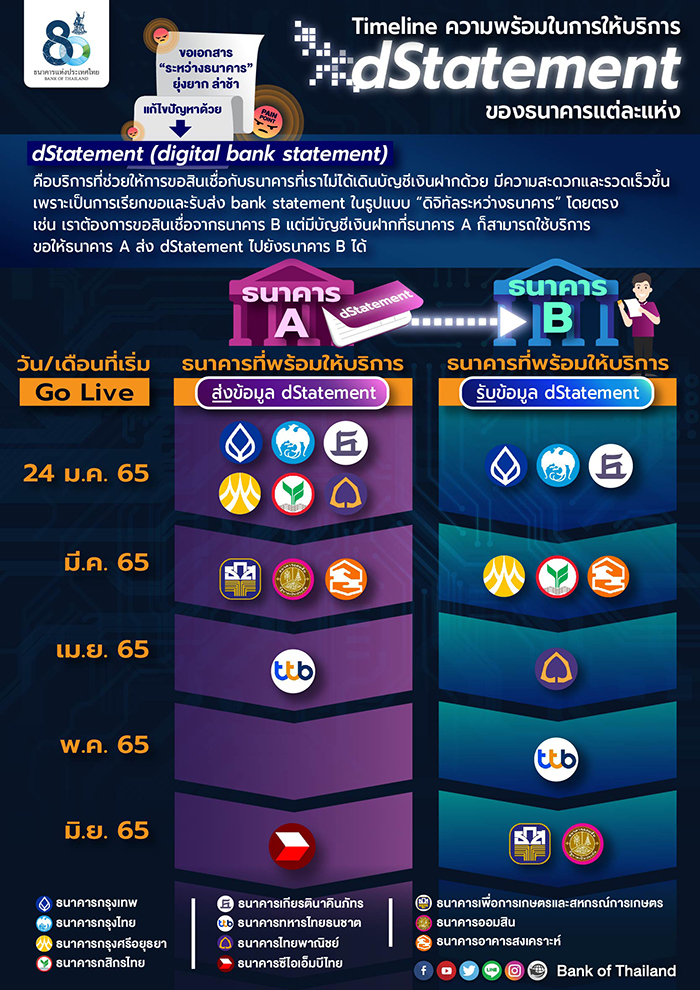 Bank of Thailand
Thai Bankers' Association
The Government Financial Institutions Association
24 January 2022