SET and KTB to launch the first DRx based on Apple and Tesla stocks
Updated Date 22 Sep 2022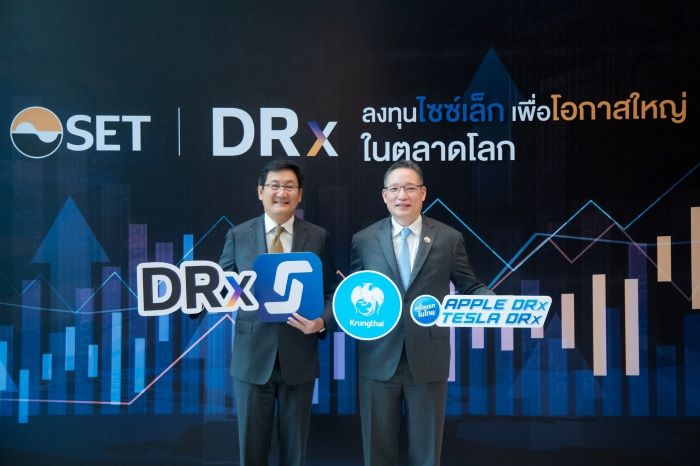 BANGKOK, September 22, 2022 - The Stock Exchange of Thailand (SET) and Krungthai Bank pcl (KTB) will launch its first ever fractional depositary receipts (DRx) to make high-flying global stocks more affordable on the Thai bourse. The first two DRx based on Apple and Tesla as underlying stocks, issued by Krungthai Bank pcl (KTB), will start trading on September 29.
SET President Pakorn Peetathawatchai said that new product development is an integral part of SET's strategic plan to cater to the needs of investors. The latest initiative is the launch of DRx, designed to suit with the investment behavior of new generations who want to invest in the world's leading stocks with a small amount of money.
DRx is a type of DR, which enables Investors to get benefits similar to direct investment in foreign shares. Investors are able to buy or sell a fraction of DR unit (starting from 0.0001 unit) during trading hours of the underlying securities domiciled in international market. Trading hours for APL80X and TSLA80X which are based on Nasdaq-listed Apple Inc. and Tesla Inc. stocks, respectively, will then start from 20.00 hrs. to 04.00 hrs. of the following day.
Payong Srivanich, Krungthai Bank's CEO, stated that as a leading commercial bank in Thailand, Krungthai Bank is determined to continue developing financial products and services to respond to all investment and savings needs of the customers. The two DRx representing the stocks of Apple Inc. and Tesla, Inc., which are listed in the U.S.'s NASDAQ stock market, are fundamentally strong and have high growth potential. Besides, Thai investors are familiar with them. The two DRx, namely AAPL80X (Apple DRx) and TSLA80X (Tesla DRx), will become available to investors through the Stock Exchange of Thailand at the same time.
Krungthai Bank prioritizes corporate responsibility and takes into consideration all groups of stakeholders. This fortifies Krungthai's position as a market leader in ESG financial solutions who is ready to address the Sustainable Development Goals (SDGs) by improving the quality of life of all customers through the development of digital infrastructure and using innovation as the driving force to propel the country's economy toward sustainability. It also aims to address customers' savings and investment needs by removing constraints and allowing Thai investors, especially retail investors, to easily and conveniently invest in foreign shares through the Stock Exchange of Thailand.
Apple Inc. is a world leader in technology that constantly innovates and launches pioneering products to the market, including Mac, iPhone, Apple Watch and iPad. It has a loyal customer base thanks to its ability to create an ecosystem that makes Apple's devices even more easy to use, which is exactly what the younger generation wants. As a result, Apple's customer base continues to grow and existing customers are retained. Tesla is a leader in the automotive industry and the world's biggest electric vehicle (EV) manufacturer. The company has been investing heavily in the past few years to boost efficiency and capacity to meet rising market demands. Tesla recorded a profit margin of 25.3% in 2021 and 27.2% in the first half of 2022 and it aims to accelerate the transition to a sustainable future.
For more information on DRx, please visit www.setinvestnow.com/drx; or information on AAPL80X and TSLA80X prospectus and terms of rights, please visit the Securities and Exchange Commission (SEC)'s website: www.sec.or.th or KTB the issuer's website: www.krungthai.com, or tel. 02-111-1111.