MAAI by KTC partners with Infinitas by Krungthai to expand MAAI points redemption channels via Tung Ngern shops
Updated Date 23 May 2022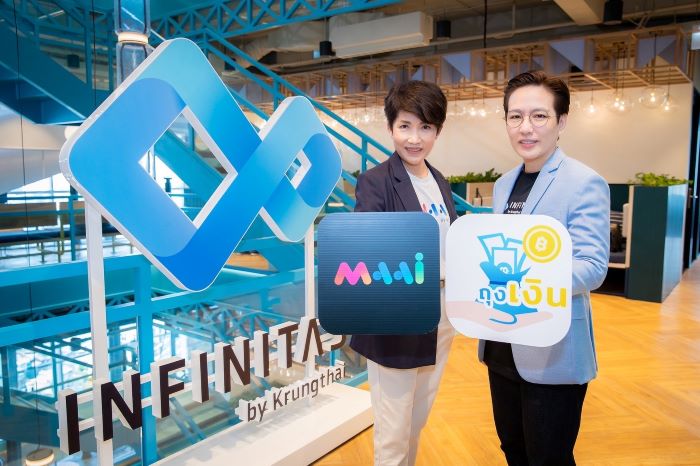 "MAAI by KTC" partners with Infinitas by Krungthai in expanding the MAAI points redemption channel through over 20,000 Tung Ngern stores across Bangkok, focusing on small food and beverage outlets. The partnership aims to create a convenient and quick point redemption experience via the QR code scanning system with the use of fewer points and an unlimited number of redemptions to make members familiar with using MAAI points in daily life and increase income for Tung Ngern retail shops in communities around Bangkok.

Mrs. Pranaya Nithananon, Senior Vice President - Credit Card Marketing, "KTC" or Krungthai Card Public Company Limited, "KTC's marketing strategy this year will focus on making 'MAAI by KTC', a new loyalty platform, stronger and more efficient with the purpose of supporting business partners with CRM (Customer Relationship Management). KTC will build a complete ecosystem that includes linking the redemption system between MAAI and partner points to add value and freedom for point redemptions. This also includes increasing the number and variety of merchants so members have the most opportunity to redeem privileges that best meet their lifestyle needs."
"This collaboration with the 'Tung Ngern' application is considered a more complete expansion of the MAAI points redemption channel as MAAI by KTC has developed a QR code feature to support the redemption process at over 20,000 merchants under the Tung Ngern app across Bangkok. These stores are small shops and the majority of them don't support a credit card payment system nor have an EDC machine installed. This partnership creates an experience for cardmembers to get used to using MAAI points to redeem for everyday products such as beverages or food. Members can try this feature out at stores with the MAAI logo sign and enjoy unlimited points redemption at a rate of 10 MAAI points to 1 baht."
Ms. Suporn Sunthornrohit, Chief Business Innovation Officer, Infinitas by Krungthai Company Limited, the developer of the "Pao Tung" and "Tung Ngern" applications revealed, "this collaboration is part of the Point Pay project where Krungthai Bank is open to join hands with all partner groups to continuously support and strengthen the retail business. This is achieved by allowing points to be used for spending at Tung Ngern shops. Infinitas' and KTC's partnership that enables the usage of points from the MAAI by KTC app to be used to pay for products and services at Tung Ngern stores not only increases sale opportunities for Tung Ngern stores, but also offers privileges and increases options to use points for MAAI members. The first phase will be piloted at over 20,000 food and beverage Tung Ngern stores all over Bangkok."
"The Point Pay project is an important phenomenon of leading national organisations with the same united goals: stimulate spending and support small shops to restore the country's economy to grow continuously, and use technology and innovation to develop financial products and services to meet the needs of all groups of users and create services for customers and the public to receive maximum benefits."
Infinitas by Krungthai Company Limited is Krungthai Bank's accelerator in the development of technology and financial innovation to meet the needs and enhance the quality of life of Thai customers on a daily basis. In the past, Krungthai Bank has developed the Pao Tung app as Thailand's Digital Open Platform, which supports spending as part of government projects through the G-Wallet service, revolutionising investment through the Sorbormor Wallet service, debenture trading service, Gold Wallet service, and Health Wallet service that allows users to conveniently check and exercise their health rights. Currently, the app has over 34 million users. Moreover, the Tung Ngern app was also developed for merchants to increase the convenience of accepting payments and financial management. As of now, there are over 1.5 million stores registered on the Tung Ngern app nationwide.
MAAI by KTC: MAAI comes from the word MAK MAAI denoting the numerous benefits that members will receive and is an extension of KTC's strengths and expertise in its reward point system. MAAI is a B2B service in the form of a ready-to-use and fully integrated loyalty platform that offers solutions to building relationships with customers through CRM in the Digital Era, providing services covering member management and a points management system. We provide services to businesses that have their own reward points (Native Points) or as an option to use MAAI Points as a tool to do CRM, including e-coupon management services to give members benefits. Members with the MAAI Application can collect points from MAAI's partner network in one place for maximum convenience and benefit of points usage.

For more information: Public Relations, Krungthai Card Public Company Limited