Fostering Harmonious Human-Elephant Coexistence
Updated Date14 Dec 2022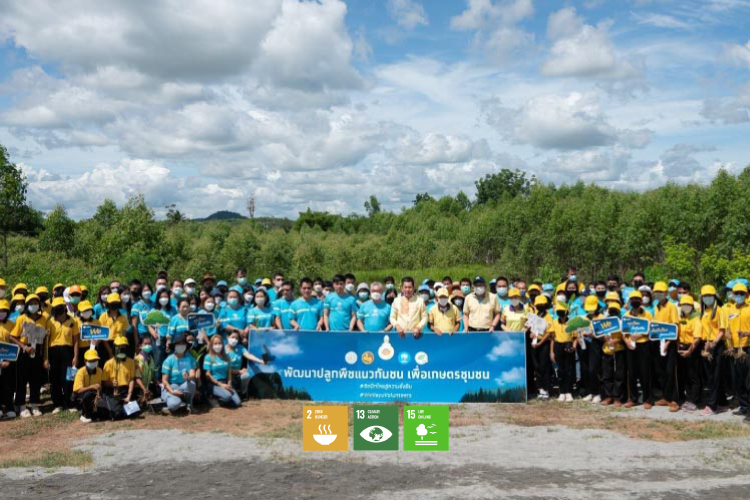 Krungthai Bank is determined to adhere to ESG principles and improve the life of people in local communities as well as maintaining ecological balances. Therefore, it makes contributions to Bajrasudha Kajanurak Foundation under Royal Patronage, whose mission is to mitigate human-elephant conflict and develop better quality of life for people in the area close to or adjoining elephant habitats in 5 Eastern Thailand provinces: Chachoengsao, Rayong, Chanthaburi, Trat and Sa Kaeo.

Over 400 wild elephants living in the habitats close to Kajanurak Ban Nong Krathing Village and Kajanurak Ban Khlong Mahat Village in Chachoengsao are suffering from a decrease in natural food sources. As a result, the elephants raid villagers' crop fields and damage their crops. To deal with this, more than 100 VVE Vayu Volunteers, who are Krungthai employees, as well as volunteering students and villagers, and volunteers from partner organizations, planted over 3,000 elephant-unfriendly unpalatable crops including galangal, lemongrass, Siam neem tree, and acacia in village areas. These crops will buffer out crop raiding elephants from the villagers' farms. In addition, the volunteers cultivated plants that elephants find palatable in natural forest areas to keep the elephants in the forest and nurture sustainable human-elephant coexistence. Moreover, the volunteers also contributed to the development of water resources and the cultivation of cash crops to help the communities affected by the conflict, promote self-reliance and improve quality of life.
This volunteer activity is in alignment with the United Nations Sustainable Development Goal Zero Hunger as it promoted sustainable agriculture practices, improved agricultural productivity, and increased income of local farmers. The activity also aligns with the goal Climate Action as it helped raise climate change awareness and provided the villagers access to green public spaces and Life on Land as it helped the communities maintain healthy forest.
Apart from volunteering, Krungthai Bank also made monetary contributions to Bajrasudha Kajanurak Foundation and organized an activity to build a buffer against crop raiding elephants as part of its effort to address Sustainable Development Goals.