PTTEP offers Asia's first digital bond via wallet in cooperation with Krungthai Simple subscription, 24/7, and real-time trading
Updated Date 12 Oct 2021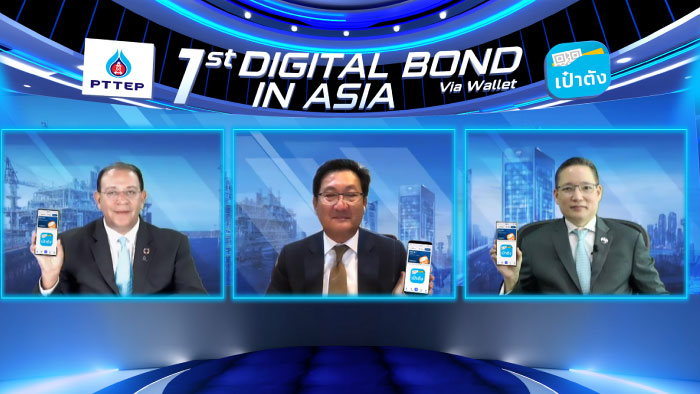 PTTEP and Krungthai Bank join hands to offer "PTTEP Digital Bond", Asia's first fully-digitalized Corporate Bond via Wallet, providing Thai investors with simple and real-time trading on "Pao Tang" application, as Thailand Open Digital Platform. With only 1,000 Baht minimum subscription value and interest payment every 6 months, the investors will have equal opportunity to invest in corporate bonds and get steady returns, with "AAA" credit rating by TRIS Rating.
Montri Rawanchaikul, Chief Executive Officer of PTT Exploration and Production Public Company Limited (PTTEP) said that PTTEP will issue bonds to the general public in cooperation with Krungthai Bank. Launching through "Pao Tang" application, this will mark the first bond issuance via digital wallet in Asia. The minimum subscription is set to the unprecedentedly low value of only 1,000 Baht in order to allow retail investors to invest in PTTEP, Thailand's national petroleum exploration and production company. The company is scheduled to determine the issue size by the end of October and the offering is set to be between 2-4 November 2021.
PTTEP Digital Bond is a long-term name-registered, unsubordinated, and unsecured bond with a bondholders' representative. The bond, due in 2026, has the tenor of 5 years and bears a step-up interest rate with the minimum of 2.00% per annum and the maximum of 2.75% per annum, averaging to 2.25% per annum. The interest will be paid every 6 months. Investors can subscribe with subsequent multiples of 1,000 Baht and the maximum subscription is 10 million Baht. The bond was assigned "AAA", the highest possible credit rating for domestic bonds, by TRIS Rating on 14 September 2021, reflecting the company's robustness and financial stability.
"PTTEP has returned to issue bonds to the general public for the first time in 10 years. As a Thai national energy company, we're pleased to offer an investment opportunity to Thai investors who expects steady returns from growth companies. This issuance of digital bonds comes with the lowest-ever minimum subscription among Thai bonds. Investors can easily subscribe via Pao Tang mobile application, which is part of the effort to use technology to develop and enhance the efficiency of the Thai capital market. The proceeds from the bond issuance will be used for refinancing outstanding loans or bonds, as well as working capital for future growth of business," Montri said.
Payong Srivanich, President and CEO of Krungthai Bank, stated that the bank is highly committed to using financial innovations to develop financial products and services that better meet the needs of its customers as well as all Thai people, and offer the products and services on easily accessible digital channels. Its digital platform, Pao Tang mobile application developed by Infinitas by Krungthai, is positioned as Thailand Open Digital Platform which can be used by everyone, including those without a Krungthai Bank savings account. It is also open for collaborations with partners from both public and private sectors to enhance the platform's capabilities and extend the range of provided services so that it covers main activities in all areas of life for all customers and citizens, including financial, health and lifestyle services as well as savings and investment products.
The bank has collaborated with PTTEP to take Pao Tang application to the next level by offering PTTEP's digital bond in the app. This marks the first time in Asia that a corporate bond is offered in the primary market and traded into cash in the secondary market via a wallet, which is an all-online channel. While the demand for PTTEP's AAA-rated bonds is usually high. In the past, it was, however, rather inconvenient to trade bonds into cash as investors might not know where to trade, which hindered them from trading bonds. Krungthai Bank then stepped in to act as the intermediary to facilitate secondary market trading so that investors have access to a trading platform that is convenient, fast and available 24 hours a day. The platform is commission-free and transactions are immediate – buyers receive the bonds and sellers receive the money instantly. These are believed to aid promoting the liquidity of the debt capital market and the investment capital flow to the level which the market has not seen before.
"This collaboration has revolutionized the investment scene and democratized bond investment, allowing all Thais regardless of their level of income to invest in the high-quality, AAA-rated corporate bond with the minimum investment amount as small as 1,000 Baht. Moreover, they can trade the bond into cash at will anytime and anywhere via the Thailand Open Digital Platform, Pao Tang mobile application. With over 33 million users, Thai people are already familiar with this Thai-made platform for Thais as it has hosted a number of government schemes, including Half-half and We Travel Together, as well as Health Wallet and 1-Baht Bond. The development is considered an effort to realize several of the Sustainable Development Goals (SDGs) as it promotes inclusive and sustainable economic growth as well as the reduction of inequalities within the country. After this, we will continue developing and extending the range of products and services to sustainably empower a better life for all Thais," Payong said.
Pakorn Peetathawatchai, President of the Stock Exchange of Thailand (SET), stated that Thailand Securities Depository (TSD) under SET is pleased to witness the successful offering of PTTEP's digital bond via Pao Tang mobile application which is an important stepping stone toward being a financial innovation that makes basic financial services inclusive for all. This upgrade will contribute to the digitalization of Thai capital market and give the country's economy a sustainable competitive edge.
Investors who are interested in the PTTEP digital bond may download Pao Tang mobile application prior to the subscription period. For further information, please refer to the prospectus available at www.sec.or.th and www.krungthai.com or contact Krungthai Bank at 02-111-1111.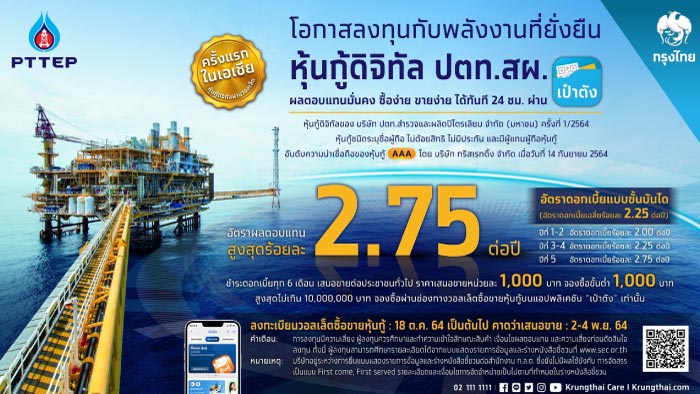 About PTTEP
PTTEP is a national petroleum exploration and production company with over 36 years of experience in providing a sustainable petroleum supply to Thailand and the countries we operate in. Currently, the company has more than 40 projects in 15 countries worldwide. Apart from strengthening its core business of petroleum exploration and production, the company is also expanding investment opportunities in new businesses such as innovation and technology, renewable energy and new forms of energy to sustain long-term growth. For more information, please visit www.pttep.com and http://www.facebook.com/pttepplc.
October 12, 2021. For more information, please contact Media Management Section,
PTT Exploration and Production Public Company Limited
Tongchit Pongorapin
Tel. +66 (0) 2537 4587
Nalin Viboonchart
Tel. +66 (0) 2537 4834
Thidaporn Naknouvatim
Tel. +66 (0) 2537 2648
E-mail: media_relations@pttep.com
Marketing Strategy Team,
Krungthai Bank Public Company Limited