Ready to welcome tourists with VRT program to stimulate spending and economic growth
Updated Date 23 Mar 2023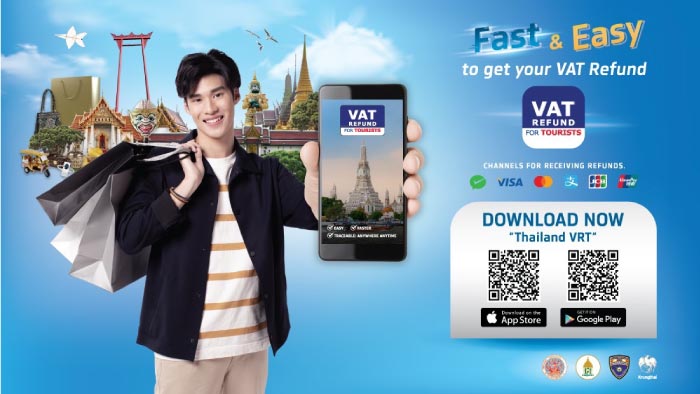 Krungthai Bank is ready to welcome back tourists from all over the world with an upgraded version of VAT Refund for Tourists (VRT), which facilitates tourists and strengthens local businesses. The VRT program will support the recovery of the tourism sector after China has relaxed its Zero COVID policy. It is estimated that the number of foreign tourists arriving in Thailand will increase by 27.1 million, and the GDP in 2023 is expected to grow by 3.4%.

Krungthai Bank's VAT Refund for Tourists (VRT) program empowers Thai businesses by enhancing their flexibility, eliminating the process of issuing tax refund papers, and reducing errors on tax invoices. Tourists' purchase information is submitted directly to the Revenue Department via blockchain, which improves the process's efficiency and facilitates tourists in obtaining a VAT refund. The refund is accurate, convenient, and fast, thereby encouraging tourists to spend more. As a result, many well-known retailers and brands, including King Power, stores in the Siam Piwat Group, Louis Vuitton, and The Mall Group, have already joined the program.

Shoppers will also benefit from the Thailand VRT mobile application, which allows them to see their purchase history and VAT refund requests with just one tap, and they will enjoy a shorter waiting period for the refund. In the app, which can be accessed anytime, anywhere, shoppers can see the real-time status of refunds. Furthermore, tourists can select how they want to receive the refund money. For example, the refund can be credited to their Visa, Mastercard, JCB, or UnionPay cards, as well as to their Alipay or WeChat Pay wallets, which would be very convenient for Chinese tourists.

Krungthai Bank offers several other services that will make shopping in Thailand a breeze for foreign tourists. They can withdraw cash from an ATM using the real-time foreign exchange rate or exchange money from over 20 currencies to Thai baht at any of over 1,000 branches and exchange booths nationwide. As for Thai travelers going abroad, Krungthai Bank offers Krungthai Travel Card, which can be used to make payments, eliminating the need to carry cash around. They can also exchange money for Krungthai Travel Card anytime using Krungthai NEXT mobile application.

Retailers interested in VRT can visit a Krungthai Bank branch or call Krungthai Contact Center at 02-111-9999 for further information about the program. For enquiries regarding other products and services, please call 02-111-1111.
Marketing Strategy Team
23 March 2023