Krungthai offers financial solutions that empower better business to Thai-Saudi investors at EEC Business Forum
Updated Date 5 Jul 2022
Krungthai Bank has stepped up to promote foreign investment by using financial technologies and innovations to unlock limitations in international business. Ready to provide support to business operators in the Eastern Economic Corridor (EEC) and encourage investment in the country, the bank attended the EEC Business Forum and offered financial solutions to representatives of the Saudi private sector from Riyadh Chamber of Commerce and Thai entrepreneurs in real estate, health and beauty, tourism, food and beverage, and technology industries. The forum was held on 4th July, 2022 at Grande Centre Point SPACE, Pattaya, Chonburi.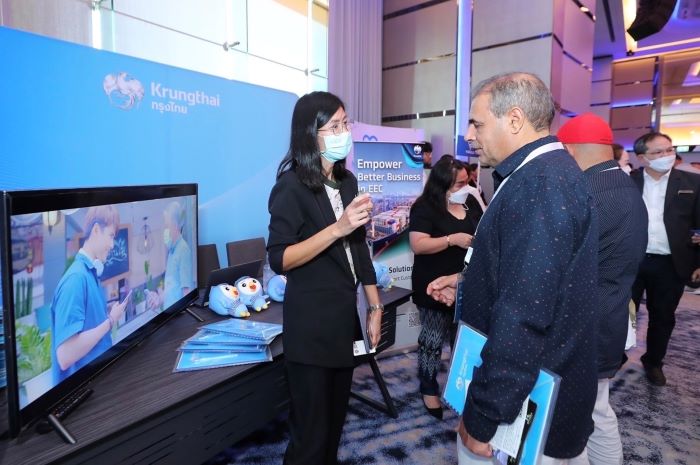 Krungthai Bank is set to promote the restoration of the relations between Thailand and Saudi Arabia, especially in the area of investment. At the EEC Business Forum, the bank offered total financial solutions to businesses under the theme "Empower Better Business in EEC". It makes use of technology to facilitate faster operations and establish comprehensive private sector infrastructure for foreign investors and local businesses of all sizes. Being connected to Krungthai digital solutions, they can conduct their business with ease. The first solution offered is Krungthai Business, a comprehensive cash management application for business that facilitates local and international money transfers and payments. The application boasts the smart assistant feature that helps users select the most suitable transfer method for each transaction. Users can also make and schedule bulk transfers, as well as making international transfers in any of the 16 available currencies. The My QR feature enables users to make and receive payments easily. The application also features e-Withholding Tax Plus service which handles deducting and remitting withholding taxes. This multi-device application works seamlessly across different devices and it is accessible from anywhere, at any time. Other digital solutions include Krungthai SmartFX, a real-time foreign exchange service, and Krungthai Smart Trade, a one-stop solution for international payments and FCD transactions that supports 16 currencies.

Krungthai also connects business operators to the logistics network for easier tax and logistics fee payment with Logistics & Tax Solutions. With Krungthai Logistics Card, business operators can make payments to Thai Customs, Port Authority of Thailand as well as leading cargo companies more easily than ever. ASEAN Customs Transit System (ACTS) Guarantee Service also makes goods transportation across 7 ASEAN countries more convenient.

In addition, Krungthai offers business loans, with interest rates starting from 2% per annum, for corporates, juristic persons and sSMEs. These loans will help businesses enhance liquidity and grow sustainably. For more information, please visit https://krungthai.com/th/content/eec-solution or contact Krungthai Contact Center at +662-111-1111.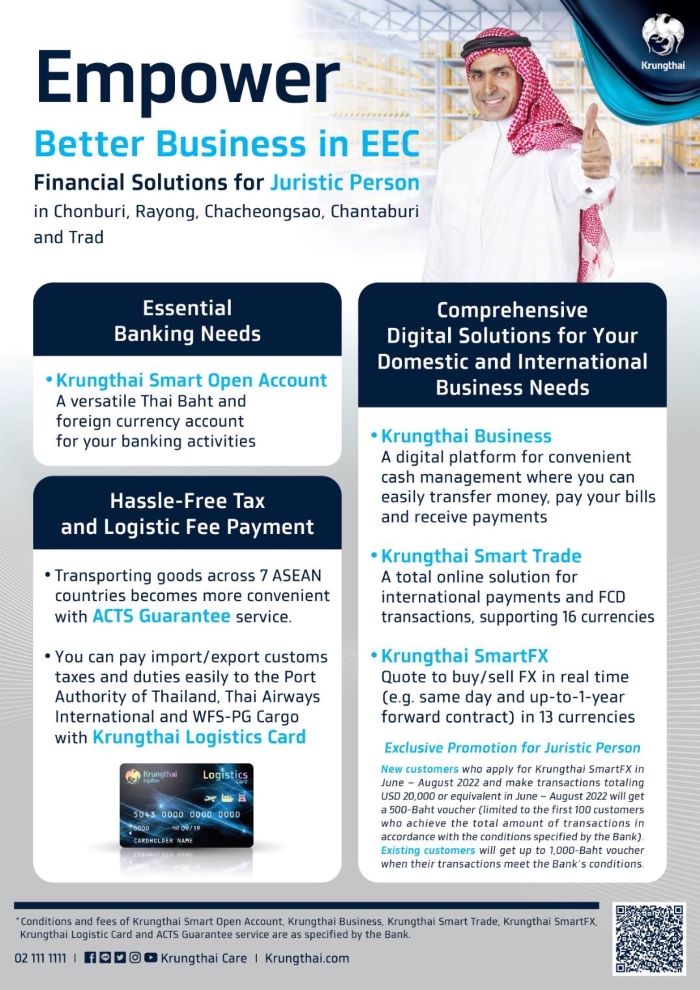 Marketing Strategy Team
5 July 2022