MINT e-Bond via Pao Tang met with enthusiastic response as B2bn sold out, boasting inclusive, equal investment and sustainability
Updated Date 22 Mar 2022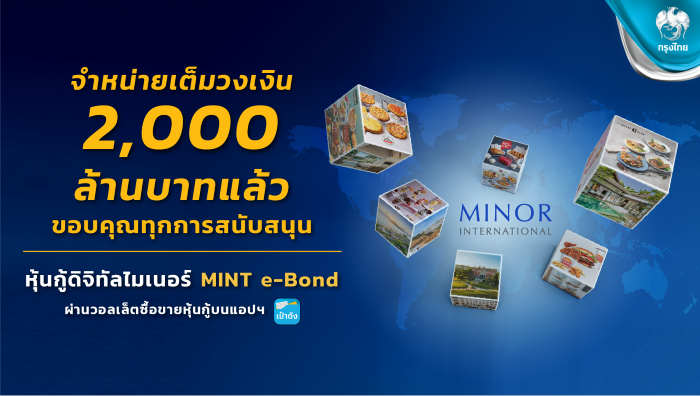 Minor International Public Company Limited (MINT) successfully wrapped up the third batch of e-Bond sale worth 2 billion Baht which was offered on Pao Tang mobile app thanks to enthusiastic response from retail investors, confirming public confidence in the company. It is confident that its performance in 2022 will be strong as global economies are recovering and the US and EU are loosening their Covid-19 restrictions as a large number of people are vaccinated.

Chaiyapat Paitoon, Chief Strategy Officer of Minor International Public Company Limited (MINT) said that the company accomplished its goal of offering the third batch of MINT e-Bonds (digital bond) to retail investors. The tenor of the bonds is 4 years 4 months and it comes with 3.30% fixed interest which is paid every 6 months. The bonds worth 2 billion Baht were sold via the digital bond wallet in Pao Tang on 21-23 March 2022.

The offering of Mint e-Bonds is the first time in Thailand for a company in the private sector to offer 100% scripless bonds to general investors to cut down paper use in line with green trends and promote capital market innovations in the digital age. However, investors who wish to get a bond certificate can make a request to the securities companies holding their brokerage accounts or the registrar for a fee. In addition, this is the first time that bondholders can enjoy privileges on top of the interest; they receive 10% discount off the regular price (conditions applied) when they purchase from 6 participating MINT's restaurant chains, which are The Pizza Company, Bonchon, Swensen's, Sizzler, Burger King and The Coffee Club (excluding airport outlets). This privilege will be available from 1 May 2022 until the maturity of the bonds and it can be used for an unlimited number of times.
"The positive response we receive reflects the investor's trust in our company as they decided to invest in MINT e-Bond to enjoy regular and constant returns. The proceeds from the bond issuance will be used to repay matured bonds in March 2022. They will also allow the company to manage finance costs more effectively," Chaiyapat said.
Rawin Boonyanusasna, Senior Executive Vice President, Head of Global Markets Group at Krungthai Bank, said "Krungthai Bank is committed to using new technologies and innovations to develop financial products and services to meet the needs of customers and all groups of people on digital channels that are easy to access, convenient to use and secure. We also want to encourage Thais to plan their savings and investments for a financially healthy future by developing and offering investment products on Pao Tang, which is Thailand's open digital platform developed by Infinitas by Krungthai. The platform allows users of all groups to use the service, including those without a Krungthai Bank deposit account. We are also ready to cooperate with various partners both from public and private sectors to enhance the potential of the platform so as to cover a wider range of activities of customers and Thai people in the areas such as financial services, health, lifestyle, as well as savings and investment.
The latest development was the issuance of the third batch of MINT eBond via Pao Tang in partnership with Minor International Public Company Limited. Thanks to the minimum subscription of only 10,000 Baht, the batch, worth 2 billion Baht, was equally accessible to all groups of people. The subscribers were from all over the country, with 40.6% from Bangkok and 59.4% from other provinces, and 63.7% were female. The age of subscribers ranged from 20 to 90 years old; 30.35% were between 20-40 years old and 18.03% were above 60. The numbers confirm that bond issuance via Pao Tang offers inclusive, equal and equitable access to bond investment. Other advantages are that bonds can be subscribed and traded conveniently and speedily, allowing investors to receive the bonds and money instantly, and see bond holding information and trading prices within the app. Furthermore, thanks to blockchain technology, the platform is highly transparent and verifiable.
"The partnership with Minor International Public Company Limited or MINT is a major milestone in the revolution of corporate bond investment in food, hotel and lifestyle industries. It is also an opportunity to extend Pao Tang's capacity to respond to the needs for savings and investment, which are fundamental to strong and sustainable financial health. Innovations are leveraged to enhance the efficiency and uplift the Thai capital market by continuously offering services that promote economic growth. It also helps to address environmental issues as it is scripless; there is no need to travel physically to a bank branch and transactions can be completed online in Pao Tang, a digital platform with over 33 million users. This is also in alignment with the sharing economy and helps to improve the liquidity of the Thai bond market," Rawin said.
*************************************
By MT Multimedia Company Limited on behalf of Minor International Public Company Limited
For more information, please contact Orn-anong Pattaravejkul
Tel: +66 (0)99-194-6597, +66 (0)86-801-8888 E-mail: ornanong.p@mtmultimedia.com
Krungthai Bank Public Company Limited
Marketing Strategy Team
Piyaporn Boonlert and Raewadee Phongchaiyong
Tel: +66 (0)2 208 4188