Krungthai to discontinue KTB netbank from 1 Jan 23
Updated Date 29 Nov 2022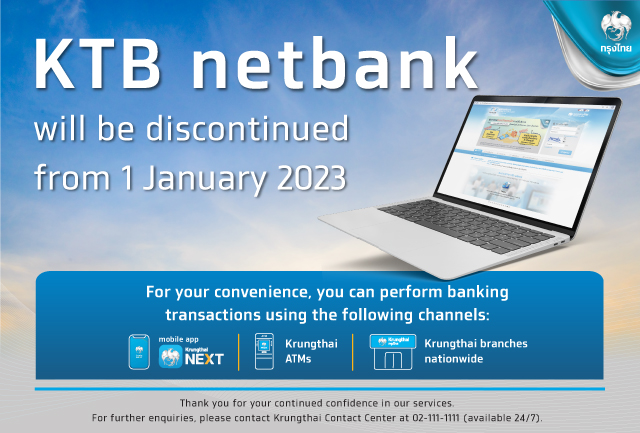 Krungthai Bank announced that its internet banking service, KTB netbank, will be discontinued from 1 January 2023. This is due to substantial decrease in the number of users as many of them have switched to Krungthai NEXT mobile banking application. Krungthai NEXT has been developed to be a one-stop service mobile application that will empower better life through easier, faster, and more secure banking. With Krungthai NEXT, the bank aims to respond to all financial needs of people of all lifestyles and improve the efficiency and variety of services offered to all groups of customers on smartphones, which is in alignment with Thailand 4.0 aspiration and contributes to driving all sectors toward becoming a cashless society. Krungthai NEXT provides better user experience with handy features. For example, users can register with face authentication by scanning their faces and ID cards to verify their identities, they no longer have to remember usernames and passwords, and they can change the mobile phone number or email address for receiving OTP in the app without having to visit a branch. With a comprehensive range of services including money transfer, top up, payment, loan application, notification, and scheduled transactions up to 24 months in advance, Krungthai NEXT is highly popular and is now serving over 16 million users.
KTB netbank service will be automatically cancelled; customers do not have to take any action to cancel the service. Upon the discontinuation, the following services on https://www.ktbnetbank.com will no longer be available:
Retrieving account details and managing account
Fund transfer
Bill payment
Western Union
Service application via KTB netbank
Booking government lottery quotas
To continue using the services, customers can download Krungthai NEXT mobile application and verify their identities at Krungthai ATMs and branches nationwide. For further enquiries, please contact Krungthai Contact Center at 02-111-1111 (available 24/7). The bank apologizes for the inconvenience and thanks customers for using its services.
Marketing Strategy Team
30 November 2022