HIGHLIGHT

Simpler, faster and more secured:
Register with face verification.

No need to worry about forgetting your username or password!

Transfer, top up, pay bills, withdraw money and apply for a loan

with no hassle.

Schedule your transactions

up to 24 months in advance.
Personalize your home screen on Quick Menu, Favorite and Profile Picture to match your preference.

Smart lifestyle:
Use

Smart Banner

to receive your payment reminders and news. This helps you avoid late fees, save time and stay ahead of the game.
Enable

Smart Transaction

to get suggested transactions, completing them faster than ever.
Enjoy your privileged campaigns on

Smart Promotion,

catering to your taste.

And many more:
Open NEXT savings accounts

with a high-interest rate.
Spend your

Krungthai Travel Cards

with the best foreign exchange rates.

Buy insurance and check your insurance policy

anywhere and anytime.

Track your KTC card usage,

available balance and reward points.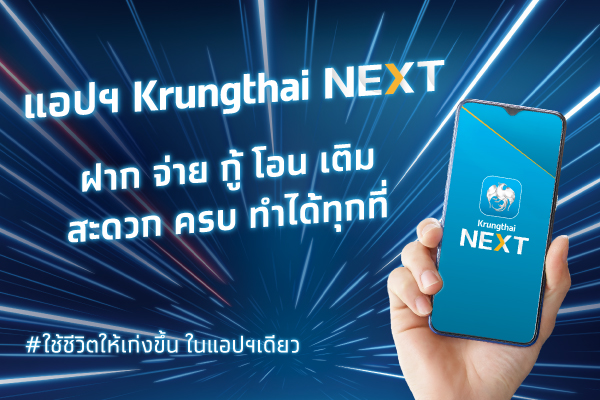 A complete range of financial services

Money Transfer
Free nationwide

Credit Top-up
All phone, Easy Pass & M-Pass

Bill Pay
Electricity bill, Water bill, Traffic fines, and more!
Krungthai NEXT ใช้ชีวิตให้เก่งขึ้น ในแอปเดียว ให้คุณ โอน เติม จ่ายได้ทุกที่ทุกเวลาตลอด 24 ชั่วโมง ฟรีค่าธรรมเนียม Krungthai NEXT, กรุงไทย NEXT, NEXT, Mobile Application, mbanking, Mobile Banking, Krungthai app, Application https://krungthai.com/Download/generalcontent/MediaFile_3913krungthai-next-thumbnail.jpg