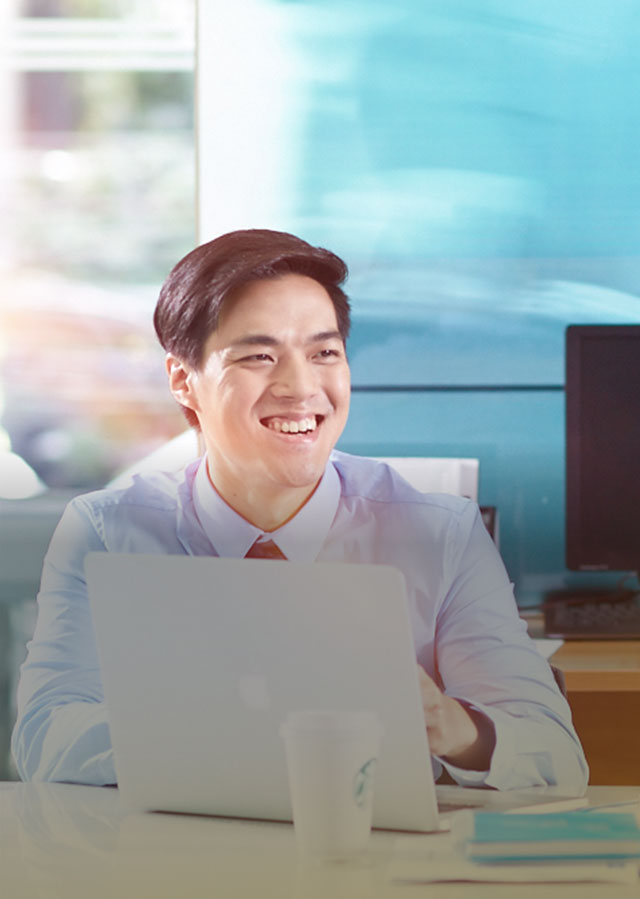 The Bank defines core issues concerning the organization's sustainability strategy and the stakeholders' expectation.
With this regard, the GRI Guidelines: Standards version have been applied to the process. The first step is "identification", to identify sustainability issues that are important to the Bank's organization's sustainability context in three dimensions, which are economic, social and environmental dimensions, as well as the issues that have the influences on the inclusive decision making of the stakeholders stakeholder inclusiveness. The second step is "prioritization", to prioritize the factors that have influences on the level of influence on stakeholders' assessment and decision and the significant level of economic, social and environmental impacts on the organization. The third step is "validation", to validate the correctness and completeness of the information. The last step is "review", to prepare for next year's report in accordance with GRI Standards. The details of each step are as follows:
Materiality Identification Process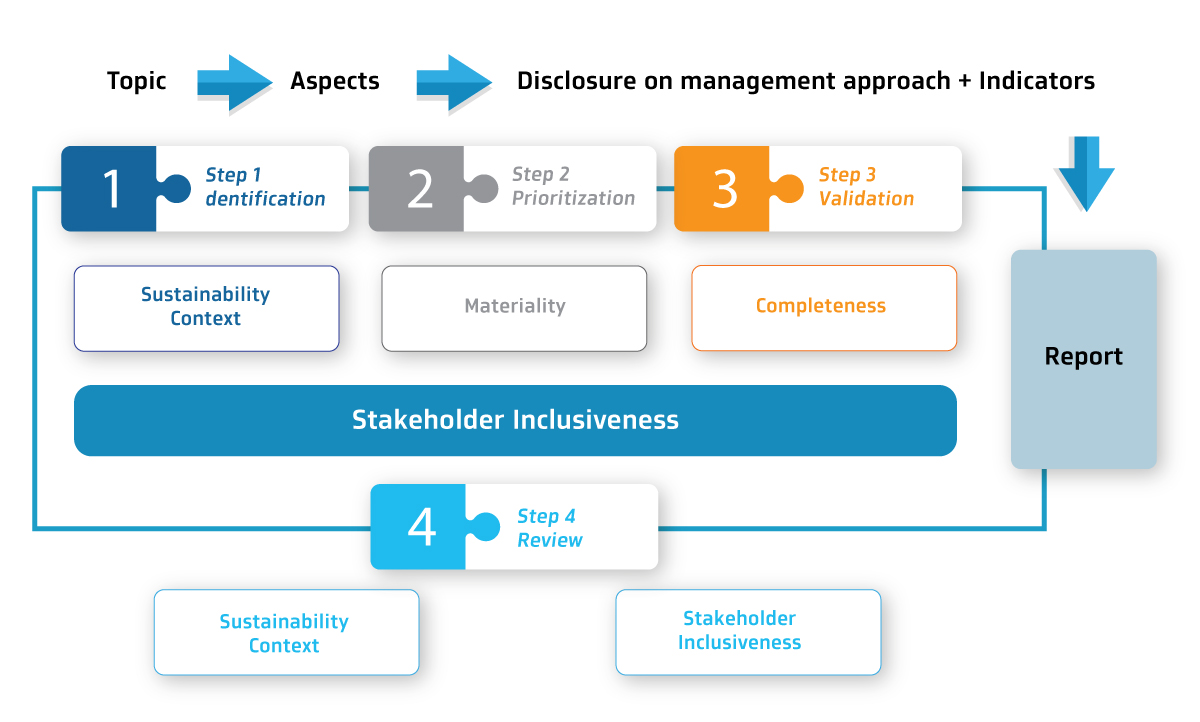 Krungthai Bank identified material issues and emphasized three material issues. There are:
Compliance and corporate governance culture
Digitalization
Providing financial service to society
Compliance and corporate governance culture
Compliance and corporate governance culture
Digitalization
Providing financial service to society

Business Case
To create public trust, Krungthai Bank operates business in compliance with regulations and laws, and with responsibility to society, environment and all groups of stakeholders. Knowing that any violations of market conduct & regulations would lead to being penalized by regulators and increase risk from fraud, Krungthai bank promotes regulatory compliance and corporate governance culture bank wide which will be fundamental to success and sustainable development of Krungthai
Business strategies
From 2018,the bank has begun Krungthai Kunnathum (the Sustainable Krungthai Initiative) with the objective to elevate organization culture of zero tolerance to corruption.
Krungthai Khunnatham has implemented the 3 principles – Foster, Prevent and Change.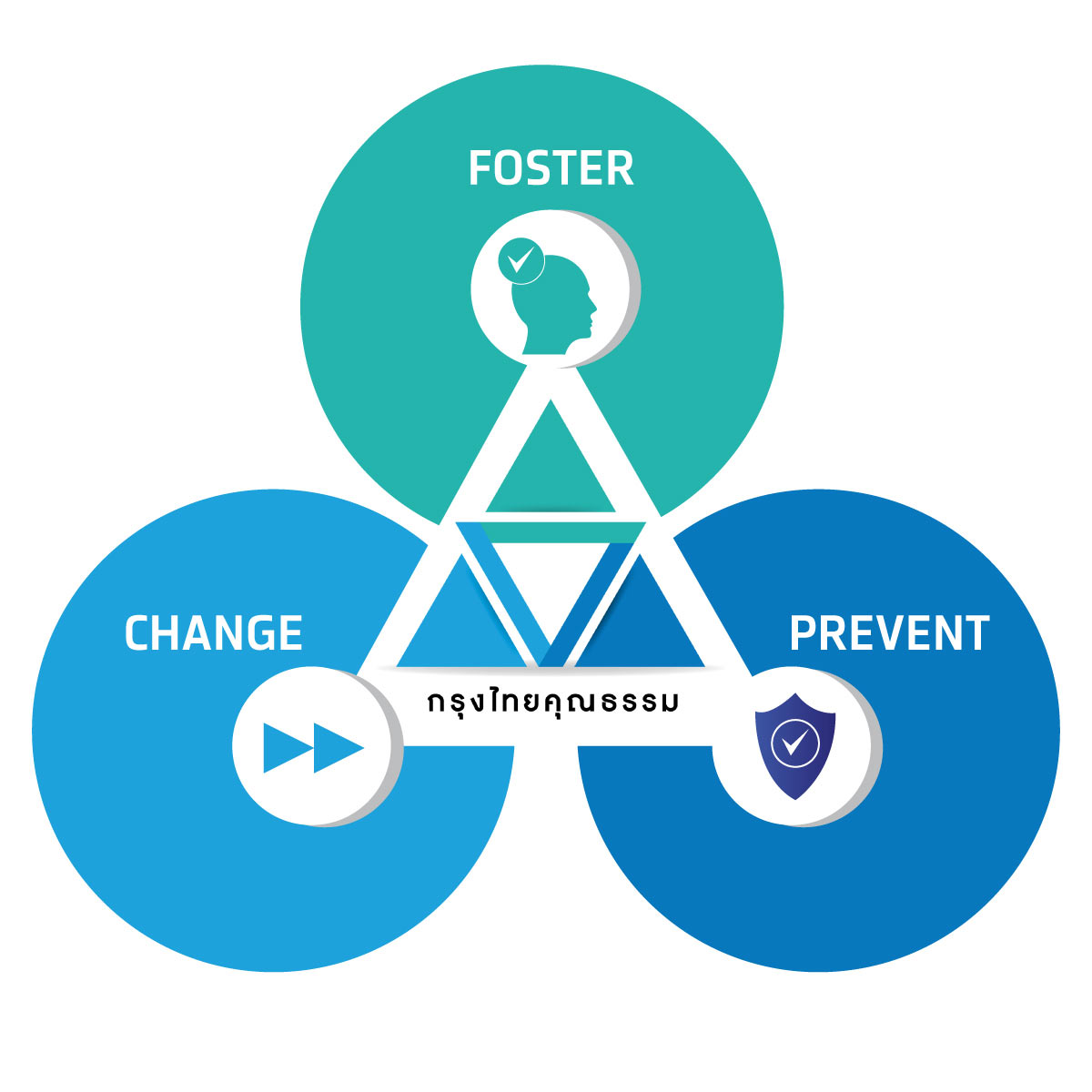 This initiative correspondingly adopts the "Inside-out Blasting" approach, which has encouraged the executives and employees to participate in brainstorming ideas on improving the Bank's operation through a Quality Assurance project consisting of the "One Unit, One Sustainable Plan" under the concept of "A problem to solve, A good deed to do." In 2019-2020, there are total of 1,540 sustainable plans, 1,221 plans from Retail Banking Group and 319 plans from all other departments in the headquarter of the Bank. Some have been implemented concretely.
Another main initiative is Krungthai Compliance Champion encouraging design thinking through a hackathon activity. This project encourages staff engagement in finding the best solutions to integrate laws and regulations into bank operations, building a mindset of compliance (MC) and cultivating Integrity Culture. In 2020, 5 projects have been proposed names as MC Chat Support, Document One Stop Service, Krungthai One MC, Your Choice Your Future and Next MOVE. All employees have been asked to participate in testing prototypes and voting the most valuable project winner.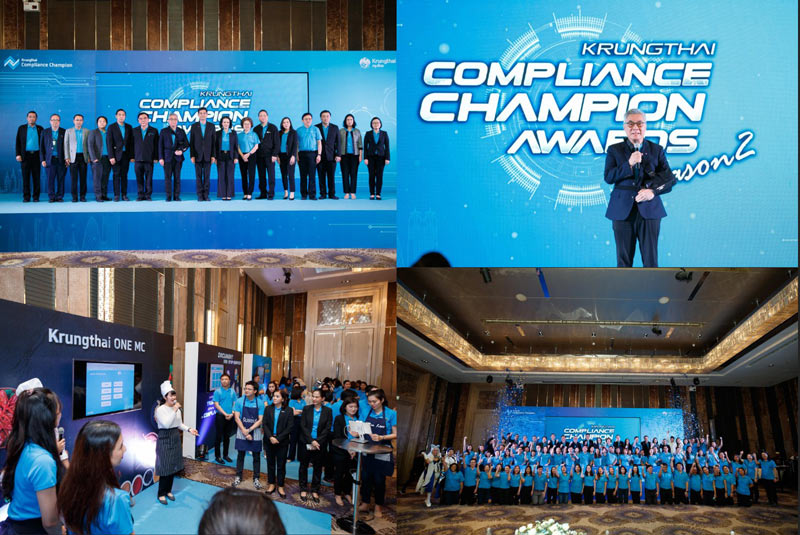 Long-Term Target/Metric: Stakeholder confidence, Transparent process, Employee satisfaction and Zero noncompliance case
Target Year: 2021
Executive Compensation: CEO & BU Head have "Compliance, Control and Governance" KPI

Business Case
Technology has affected the walk of life and the ways of doing businesses. To be able to grow sustainably, we have to be adaptive by employing more and more technology in providing financial services. Krungthai Bank adopts new advanced technology to provide digital products and more efficient customer service with improving security and reducing operating cost. We introduce and promote digital products/services as well as continuously develop our digital platform in order to achieve sustainable growth

Business strategies
X2G2X
Strategy for business expansion from customers' partners (X2G2X)
It expands customer base from the bank's main customers(G: Government) to the businesses along the supply chain of customers' partners, namely distributors, community enterprises, retail shops, restaurants, hotels, car rental businesses and others in the chain. All of them are connected using technology creating the bank's ecosystem. It enables the bank to provide financial services that truly meet all their needs. In this regard, a digital platform for Thais is established, and Krungthai will be reach all prospective customers throughout supply chains. The bank will be able to offer proper loan to prospective customers.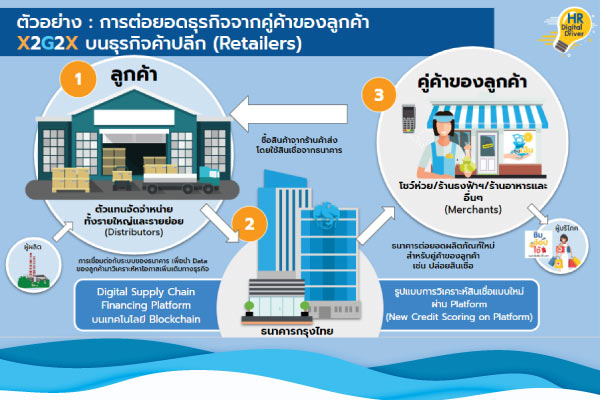 E Payment
Digital payment
Krungthai Bank is determined to develop electronic payment innovation which helps reduce banknote usage and thus reduce the spread of Covid-19. Making and receiving payment and transfer become more convenient via QR Payment, Contactless payment and Chip Card from Debit & Credit Card. Moreover, the bank will be able to analyze customer transaction data and offer needed loan. In addition, the bank's digital platform has e-donation service, name as Tam Boon, from which the donation data are sent to Revenue Department as a supporting evidence for such tax allowance.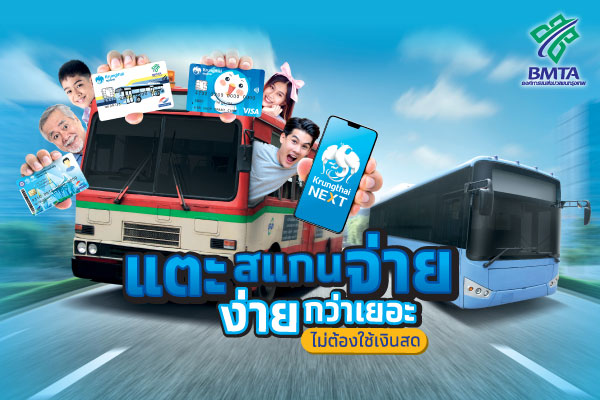 E onboarding with facial recognition
Opening bank accounts with digital technology
Krungthai bank has created a data linkage system connected with Department of Internal Trade and other government offices to receive sufficient KYC data required for opening a new account. For a new customer, identity confirmation with the data from the bureau of registration administration can be done via facial recognition.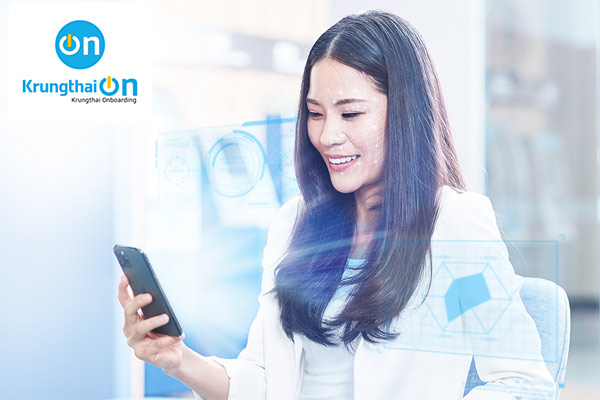 Krungthai NEXT
The mobile bank application
Krungthai NEXT provides series of the full-fledged financial services to satisfy modern lifestyle under the theme "Life's complete with one App". It suits all lifestyles covering basic transactions and other special services, for example domestic and international money transfers, money transfers via PromptPay, bill payment, purchasing goods and services through Thai Standard QR code, foreign currency exchange with most competitive rates via Krungthai Travel Card, online bond and equity trading service and self-service for mutual fund account opening and mutual.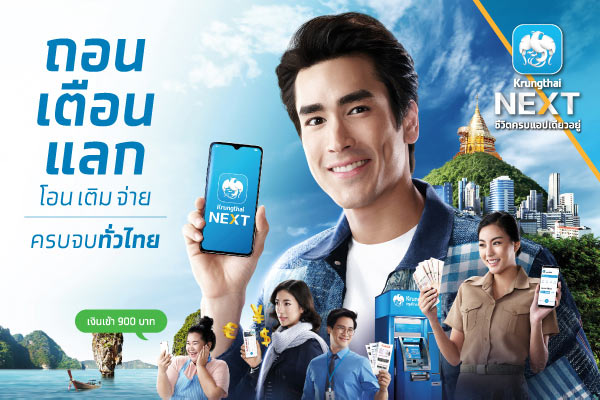 Krungthai Connext
Free! Transaction Notifications
Free service for transaction notification sent to customers via LINE mobile application, which is secure and convenient.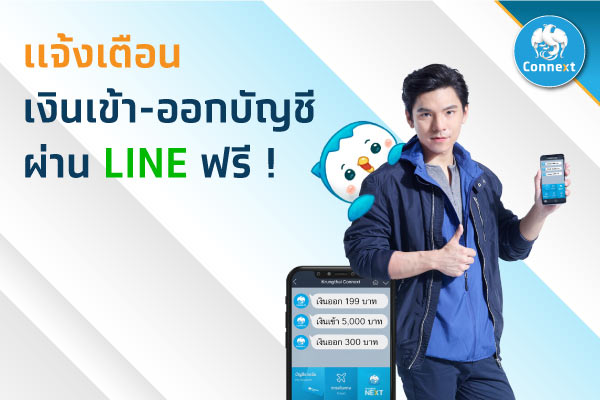 Long-Term Target/Metric: One of the Top 3 digital bank
Target Year: 2021
Executive Compensation: The Bank has specific KPIs for relevant Management Committee.

Business Case
A rapidly changing business environment and digital disruption have caused every bank to undergo a big transformation in providing financial service. The digitalization of financial services will expand the coverage of customers to young generations who grow up with technology and reduces the operational cost which in turns enables the bank to service smaller or remote customers. Krungthai Bank as a state-owned enterprise has valued the relation with government sector. The bank adjusts and uplifts competitive potential through the connection with the government by establishing new open banking platform and ecosystems. By this platform, the bank will help more people gain an access to financial services through digital banking, promoting financial inclusion. Moreover, supporting government project will strengthen brand advocate and loyalty from mass participations who may become our new customers.

Business strategies
As a listed state-owned financial institution being a pillar of the nation's economy, Krungthai bank has provided financial services to people at all levels. Being involved in government projects through an open banking platform helps promote Thai economic growth and development, and the bank can grow sustainably.
Chim Shop Chai
(Taste-Shop-Spend)
campaign: Tourism promotion campaign, Krungthai as a listed SOE bank participated in this campaign and provided website and the application for support economic stimulus. The bank has developed a "Pao Tang" mobile application which the government uses as a channel to transfer money to people who participated. For merchants, most entrepreneurs of small and medium enterprises, including community level, the bank has developed the "Thung Ngern" (Money bag) application to receive payment for goods and services.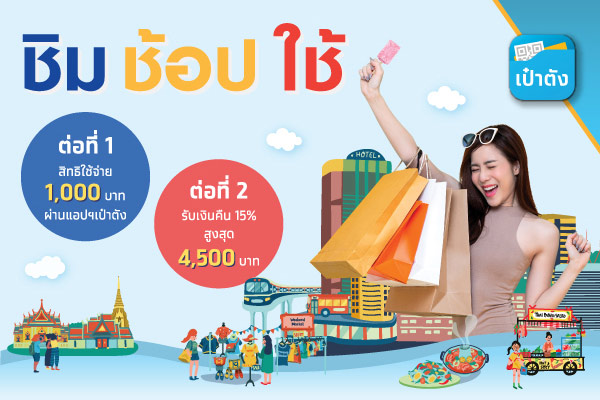 The Student Loan Fund (SLF)
The bank has been entrusted by the Student Loan Fund to manage student loans since 1996.
We develop the the Digital Student Loan Fund System (DSL) to meet the operations of the Fund in the form of paperless and digital ID linking database between government and private agencies for verification. It makes management fast and secure for both students and the fund manager.
Smart Healthcare
Financial Solutions for Hospital service and Health care system
with 5 solutions; Self check in, AI Chatbot Platform, Telemedicine / Remote Hospital, Self payment and HIE Blockchain. This project has been carried out with both state and private hospitals participating in the Civil Servant Medical Benefit Scheme. The bank provides one-stop financial management service for hospitals (such as financial management service via Krungthai Corporate Online, payment service via EDC machines, self-payment by debit card, credit card and QR code via Self-Payment Machine, e-Donation system and payroll system).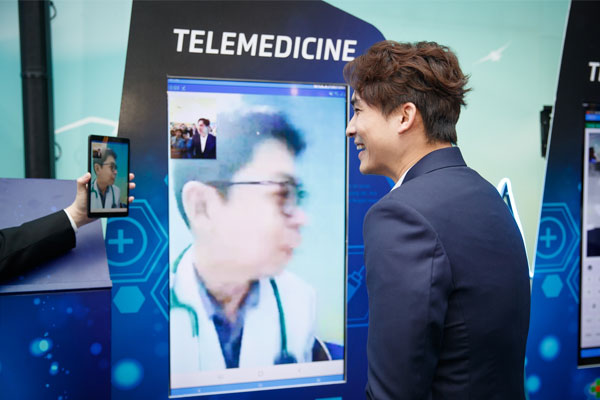 Government Welfare Card
The cash card for low-income earners to receive government subsidy for basic need.
The bank joined with the Comptroller General's Department for developing "Government Welfare Card" and issued about 14.6 million cards. Low-income earners can use "Government Welfare Card" at "Blue Flag" outlets or other shops participating in the government's schemes to buy low-price products and receive fare allowances for Bangkok-based bus, MRT and BTS systems and train. Since, there are different cost of living and government service for different areas, the cash values and allowances depend on registration area.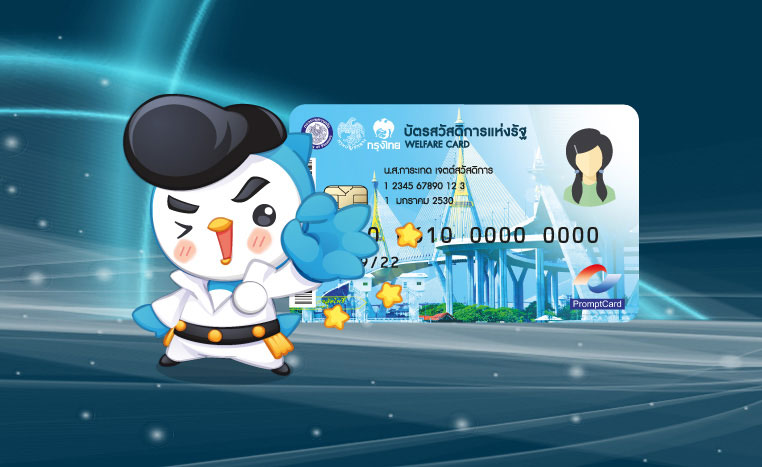 VAT Refunds for Tourists
The mobile application for tourists to conveniently receive a tax refund.
The bank cooperates with the Revenue Department, the Excise Department applying Blockchain technology to administrate value-added tax (VAT) refund via mobile application. Blockchain technology increases the efficiency of government operations by reducing the document verification process, which used to verify 10 million sheets of paper a year, and reducing the congestion at VAT refund counters. Moreover, it can lower cash management costs and can be used for sorting arrival and departure information immediately instead of for 2 months waiting .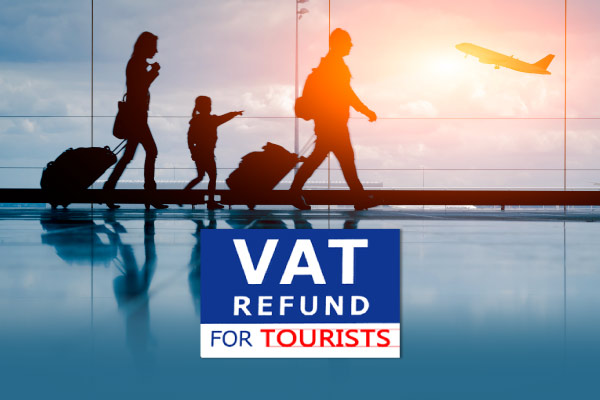 E Court
Digital platforms to support payment and e-filing document service.
The schemes include Online Real Time Central Payment Processing System Scheme, the court's electronic filing system (E-filing) that allows lawyers to file complaints in civil cases through Krungthai Corporate Online of the Court of Justice and to pay the service fee via the bank's channels.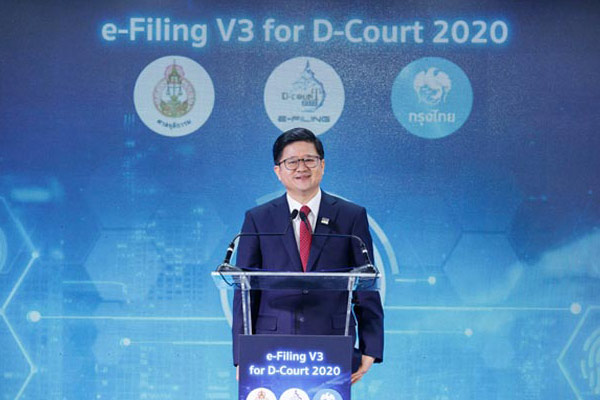 One baht bond
Scripless Bond issued via open mobile banking platform.
The bank has cooperated with the Public Debt Management Office to promote investment through e-Bond. It helps government bond issuance and sales, including Securities Depository to be more effective. People at all levels can access this electronic primary market. It promotes flexibility in the primary market and helps expands into the secondary market, increases transparency and accountability and reduces operational processing time. Blockchain technology helps people to access bond investment. The Public Debt Management Office can also increase efficiency in management by reducing the time-consuming bond issuance process from 15 days to less than 2 days. This platform promotes financial inclusion giving an opportunity to small investors who are new to the primary bond market as the bond price at par value is just 1 baht. In particular, it allows young Thai nationals to participate in the financial market through a modern platform which they are familiar with.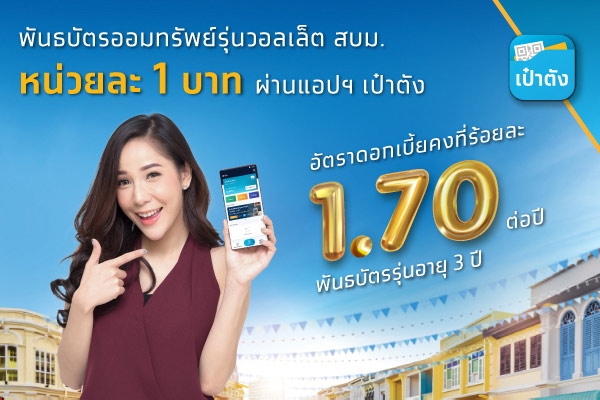 Rao mai ting kan
(You will never be left behind)
the aid registration website for self-employed people to register to receiving financial aid during COVID 19 pandemic. The financial aid will be transferred to registered promptpay account.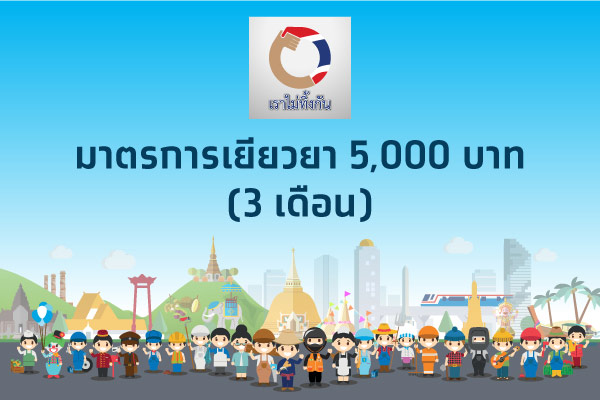 Thaichana
The platform for managing the spread of COVID 19
Krungthai bank has created platform for collecting data of individuals entering to the certain area such as shop, department store, hospital etc. The Centre for Covid-19 Situation Administration will be able to use collected data to analyze and identify people who have a chance to become infected of COVID 19.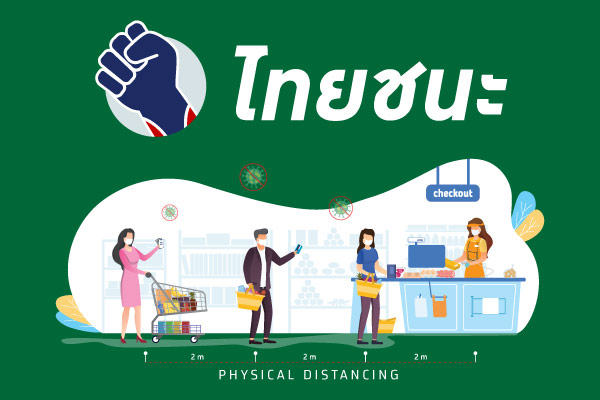 Rao Tiew Duay Kan
(Travel Together)
Tourism promotion campaign. In order to stimulate public spending via domestic tourism subsidy, Krungthai create a website and an application for tourists and shops to register. The promotional voucher will be sent to tourists via Pao Tang mobile application and the voucher holders can use the e-voucher at registered restaurants, shops and hotels.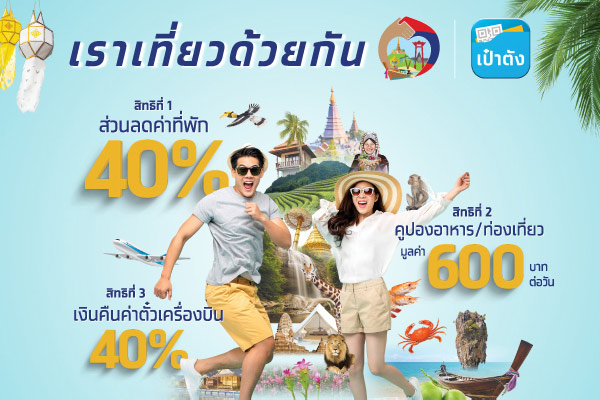 Long-Term Target/Metric: Top 3 digital bank
Target Year: 2021
Executive Compensation: The Bank has specific KPIs for relevant Management Committee.
Materiality
The Bank defines core issues concerning the organization's sustainability strategy and the stakeholders' expectation.